I'm sure it can really lose your data as well, but in this case "seem" is the appropriate word. I've been messing around with Hyper-V and one of my test machines is a SharePoint server. I started this up and found I could not access it over the network. On further investigation, it turned out to be a broken trust relationship with the Domain Controller. In other words, on attempting to log on with domain credentials I got the message:
The trust relationship between this workstation and the primary domain failed
The official advice when confronted with this problem is to remove and re-join it to the domain, creating a new computer account. I did so. Logged on, and was disappointed to discover that SharePoint was now empty. Worse still, even checking out the SQL Server databases did not uncover them. All my documents had vanished.
It turned out that I had done the wrong thing. What had really happened is that Hyper-V had been saving my changes on that virtual hard drive to a "differencing disk", a file with an .avhd extension. This is part of the Hyper-V snapshot system. Somehow, Hyper-V had forgotten the differencing disk, and started up my SharePoint VM using the last fully merged copy of the drive, which was over a month old. My drive had gone back in time, so the data had gone.
The solution was to restore the old parent .vhd from backup, and then manually merge it with the differencing file. Step by step instructions are here. Since I had deleted the original computer account, I then had to remove and rejoin the machine to the domain a second time. All was well and my data reappeared.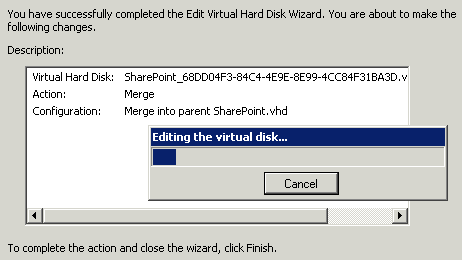 The bug here is how Hyper-V managed to start with an old version of the virtual hard drive in the first place. I can imagine this causing panic if it occurs in production – and once you start writing new, important data to the old version you are really in trouble. I was lucky that the discrepancy was severe enough that Active Directory complained.
Virtualization may be wonderful; but it also introduces new problems of its own.
The other lesson is that those .vhd files in C:\Users\Public\Public Documents\Hyper-V\Virtual Hard Disks do not necessarily contain your latest data. You also need to consider the .avhd files stored handily at C:\Program Data\Microsoft\Windows\Hyper-V\Snapshots.