IE9 is much faster than Firefox 4 beta at the Psychedelic test on the testdrive site, which demonstrates drawing fast graphics to the Canvas element. That said, a comment to an earlier post prompted me to try enabling Direct2D in Firefox 4.
As you would expect, the difference is dramatic. Here's the before and after:
How about IE9?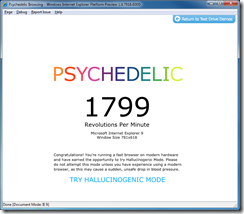 Really nothing in it. It's all about hardware-accelerated graphics.
Direct2D is not enabled by default (currently), so it is not unreasonable for Microsoft to show the slower speed in its published comparison; but worth noting that the issue is easily fixed, presuming Firefox 4 is stable in this mode.
If you want to enable Direct2D in Firefox 4, the how-to is here.