I attended the London press briefing for Windows Phone "Mango", also known as Windows Phone 7.1. This will be on new phones in the Autumn, and will be a free update for all existing Windows Phone 7 devices.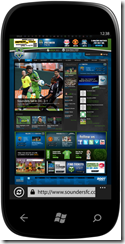 Microsoft showed a bunch of new features, including Internet Explorer 9 – which, we were told, is built from the same code as the PC version – improved social media integration now including Twitter and LinkedIn as well as Facebook, Hotmail, Exchange, Messenger and Gmail; and multi-tasking support.
Hold down the back key for a moment, and all running apps appear in a tiled view. Just tap the one you want.
We also saw text-to-voice and voice-to-text demos. The presented spoke the reply to a text message, though admittedly he chose to do a one-word reply, and sent it successfully.
Microsoft also announced three new OEM partners, Acer Inc., Fujitsu Ltd. and ZTE Corp.
It looks good; but I did have a sense that Microsoft is ducking the hard questions. One of those concerns Adobe Flash support. At a separate developer briefing, I asked developer relations guy Brandon Watson about Adobe Flash support, observing that when Windows Phone was shown in detail pre-launch at the Mix 2009 conference in Las Vegas, it was clearly stated that Flash would be on the phone, and that Adobe was being allowed to build the Flash runtime in native code, but that it would not be included at launch.
"It does not run on the phone", said Watson. Then he added, "It does not run on the phone." Finally, he said, "It does not run on the phone."
Silverlight does not run in the mobile browser either, so perhaps the problem is with mobile IE – clearly not all the code is included. Or maybe Adobe is hanging back; I asked Adobe about this at Mobile World Congress earlier this year and got an answer that was warmer but no more informative. Or maybe Microsoft is thinking, Apple does not need it, so we do not need it either.
It is a shame though, because there is a perception that Flash is one of the advantages of not going the Apple route.
On the developer side, the beta tools for Mango were released today. You can target either Windows Phone 7.0 or 7.1 with the tools, so if the beta tag does not put you off you can get going straight away. There is a ton of good stuff for developers, including the SQL Server CE local database, and the ability to mix XNA and Silverlight in a single app. We saw an app from British Airways that makes use of this to show a 3D view of an aircraft cabin when choosing a seat; I am not sure how much real value this adds but it demos nicely.
The new emulator includes accelerometer support, so you can simulate movement to test your app's response.
There is also a profiler which shows your app's performance in various views. Code that you wrote is highlighted in blue in the graphical view, so you can tell what you can optimise, as opposed to slow system calls that are outside your control.
The developer tools are great though, and having played with a number of mobile developer toolkits I would say that Microsoft's is among the best and above average, though I would like to see an option for native code development. "We hear that a lot," Watson told me.
The problem though: developers want a big market, and so far Windows Phone has not delivered it. It is almost invisible on the high street, and all the current operators and manufacturers have other phones that they are more concerned about. That will change when Nokia devices appear, but in an intensively competitive market (not forgetting HP WebOS and RIM Blackberry/QNX/PlayBook) it will not be easy for Microsoft to gain ground.
After the event I discussed this with some of the Microsoft folk. Maybe the company can better exploit the Xbox link, and sell the phone to that community. Maybe Nokia will save the day. Maybe when Microsoft comes out with a fully professional iteration of Windows Phone, tightly linked to Active Directory and group policy, and with additional developer features aimed at line of business apps, maybe then it will take off.
One positive thing I heard today was an anecdotal report that returns on Windows Phone 7 are among the lowest because users like the device so much.
The social features in Windows Phone are already good and will be better in Mango – though bear in mind that by the time Mango phones appear in the Autumn, Microsoft will likely have iPhone 5 and many tempting new Android devices to contend with.
Years ago it used to be said that Microsoft had average products (or worse) but excellent marketing. With Windows Phone, the product is good but either the marketing is lacking or the task is too great. Of course there is still time, and this industry is full of surprises, but it will take more than Mango to make Windows Phone fly.