I've spent what feels like most of the night trying out the first developer preview of Windows 8, using an Intel tablet PC loaned by Microsoft for that purpose. The early preview is frustrating, in that many of what will be standard apps like Mail and Contacts are missing, but it is already obvious that Microsoft has done a great job with what I am calling the "Metro" platform within Windows 8. Here is Control Panel in the new user interface: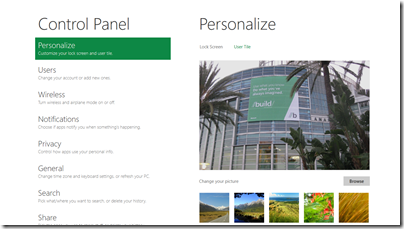 This is the touch-optimized personality of tthe new operating system, featuring a Start menu with live tiles like an evolved Windows Phone 7, apps that run full-screen to create an "immersive user interface", and swipe control to show application menus, switch apps, or access standard features.
It is a delight to use; but this is Metro, with its own Windows Runtime (WinRT), a native code API which is wrapped for access by either HTML and JavaScript apps (which also use the IE 10 runtime), or by C/C++, VB or C# apps driving XAML-defined user interfaces – yes, kind of like Silverlight but not Silverlight.
What about all our Windows apps? For that we need the desktop personality in Windows 8. Tap the Desktop tile, or launch a "Desktop" app, and it suddenly appears, looking much like Windows 7.
The problem: while Windows 8 "Metro" looks great, there are currently zero apps for it, or at least only those supplied with the preview, because it is brand new.
In truth then, Microsoft has not quite done what would have been ideal, which is to make Windows touch-friendly. That would have been impossible. Instead, it has integrated Windows with a new touch-friendly platform.
The key question: will this new platform attract the support it needs from developers in order to become successful in its own right, so that we can do most of our work there and retreat to the desktop only for legacy apps, or apps which really need mouse and keyboard?
It is a big ask, and we have seen HP with WebOS, and probably RIM with PlayBook, fail at this task.
Of course it is still Windows; but I do have a concern that a proportion of users will try Windows 8, find the transitions between Desktop and Metro unsettling, and stick with version 7.0.
Let me add these are very much first impressions; and that Metro really does look good. Perhaps it will win; but a lot of momentum has to build behind it for that to be possible.