What's new in SQL Server 2012?
Microsoft's SQL Server 2012 is released next month and available to download now (I am not sure what the distinction is). I have a high regard for Microsoft's database server; it seems to me that the team mostly gets it right. The product has become somewhat diffuse though, especially as the Business Intelligence aspect has grown, and this may account for what to me is a rather unfocused launch for SQL Server 2012, even though its name suggests that it is the most significant release since SQL Server 2008.
The following slide summarises the new features, presumably with the type size suggesting the importance of each one.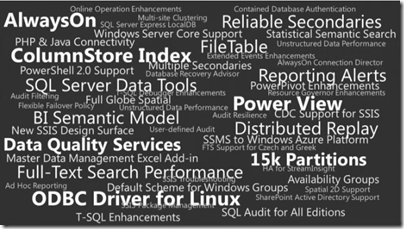 But is the ODBC Driver for Linux really more important than the SQL Server Data Tools, for example? Not in my view; but that reflects how SQL Server represents different things to different people.
So what are the key new feature? Here's my quick take.
Always On
A new feature called Availability Groups that is an improved version of database mirroring
Improved failover clustering which supports multi-site clustering across subnets – above to failover across datacentres.
ColumnStore Index
A new type of index for data warehouses. This is actually pretty simple: the name says it all. Here is Microsoft's illustration: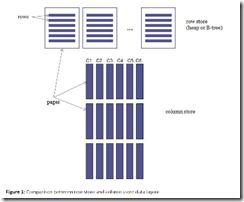 and explanation:
A columnstore index stores each column in a separate set of disk pages, rather than storing multiple rows per page as data traditionally has been stored.
Why do this? Because it is more efficient when the query only requests a a few columns from the table. Microsoft claims performance improvements from 6X to 100X in cases where the the data can be cached in RAM, and thousand-fold improvements where the working set does not fit in RAM.
SQL Server Data Tools
This is my favourite feature, probably because it is developer-focused. These are the tools that were code-named "Juneau" and which install into Visual Studio 2010. There are some visual tools, but this is essentially a code-centric approach to database design, where you design your database with all its tables, queries, triggers, stored procedures and so on. You can then build it and test it against a private "localdb" instance of SQL Server. What I like is that the database project includes the entire design of your database in a form that can be checked into source control and compared against other schema versions. Here is the Add New Item dialog for a database project: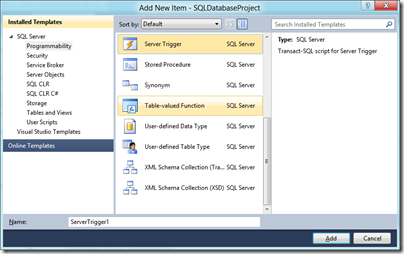 Data Quality Services
Page 1 of 3 | Next page
Related posts: