I have been poking around in the Windows Store as the public launch of Windows 8 approaches, and was intrigued by the reviews for the Wikipedia app, which is nicely done. Several users complain about the lack of a search function: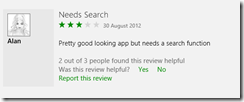 In fact the Wikipedia app has excellent fast search, on the Charms bar: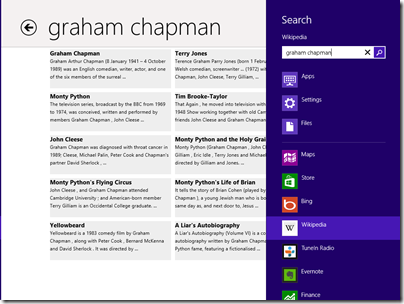 The problem: when you open the Wikipedia app there is no visual clue of where to find Search. Even if you have figured out that you need to right-click, or swipe up, to show the menu bar, it does not show a Search option.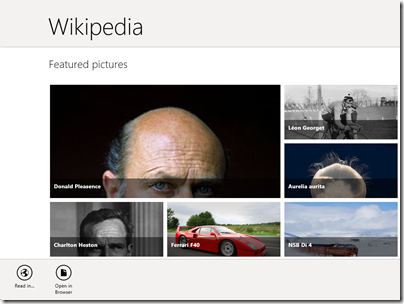 The Wikipedia app developers have done the design correctly, in terms of Microsoft's guidelines. This is the "Immersive user interface" which shows content rather than distracting UI furniture.
Another advantage of having Search on the Charms bar is that you are just a tap away from performing the same search in other apps, such as Internet Explorer.
The concept fails though if users simply do not discover key functions. What is the use of an encyclopaedia without search?
It does not help that the Charms bar, which is where Search lives, is hard to summon with the mouse. It is OK on a tablet (swipe from the right) or with the keyboard (Windows Key + Q). With the mouse, you have to position the pointer vaguely in the top or bottom corner and wait for Charms to fade into view if you have done it correctly. It is a vague movement with no feedback that you have initiated an action, like a button that does not click.
I presume though that as users live with Windows 8, Windows Key + Q will become natural when looking for a Search function (hah!). It is fair to say though that the UI does not score highly for discoverability.