Preventing auto-archive of Tasks in Office 365 with Retention Tags
I helped a contact set up Office 365 and encountered a curious problem.
He is a financial adviser and as part of his workflow, he uses tasks with a due date set far into the future. For example, "Call this client in two years time".
He has an Office 365 E3 plan, which gives him enterprise-quality retention and archiving features.
We enabled archiving which by default means that messages over two years old are moved to an online archive mailbox.
He then noticed that tasks were disappearing. Then he found them in the archive mailbox. Some of the tasks that were being archived were the ones for action right now.
Why does Exchange archive tasks that are just on or even before their due date? It seems odd; but read this post carefully:
A non-recurring task expires (or moves to the archive) according to its message-received date, if one exists.
If a non-recurring task does not have a message-received date, it expires (or moves to the archive) according to its message-creation date.
You might not think that tasks are messages; but in Exchange everything is a message, kind-of. Nowhere does this post by Ross Smith at Microsoft refer to the task's due date. That seems curious; but the evidence from both this post and our experience is that Exchange will indeed archive a task, regardless of its due date, if it is older than the archive period.
No problem, I thought, we'll just set the Tasks folder not to auto-archive. Forget the folder properties though; this is Enterprise stuff set by policy and there is no auto-archive tab:

OK, so we have to look at the policies. This gets a little complex. If you right-click a folder in Outlook Web App, after enabling online archiving, you will notice an Assign Policy option which refers to both Archive Policy and Retention Policy: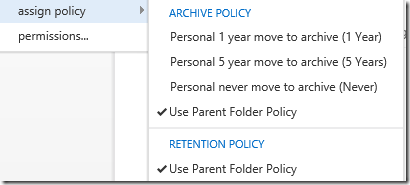 However, you cannot right-click Tasks and choose "Personal never move to archive". Nor can you use Policy tab that appears in Outlook (provided you have the right version) for most folders: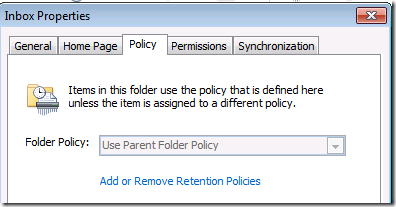 The Tasks folder is special. It inherits the default archiving policy for the mailbox, which cannot be overridden.
Here is how we have (I hope) fixed this. What you have to do is to set a default archiving policy of "Never archive" and then override this for the folders that you do want to archive. A bit backwards, but there it is.
You can do this either through the Office 365 Exchange admin screens, or with PowerShell. First, go to Compliance Management and select Retention tags.
Page 1 of 2 | Next page
Related posts: