Here at PDC in Los Angeles, Microsoft's Chief Architect Ray Ozzie and Windows VP Steven Sinofsky are introducing Windows 7. A couple of days ago, journalists were loaned Windows 7 laptops to try and I've been using this over the last day or so. Generally it's been a pleasure; performance is great and it works well, aside from Internet Explorer 8 going into an occasional sulk.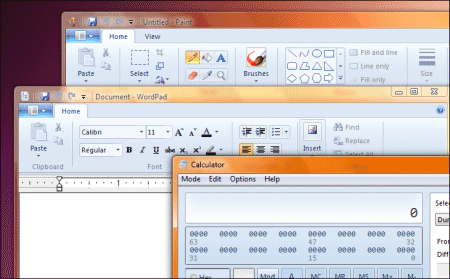 A question though: does it merit a new major version number, or is this really a big Vista service pack? It's a bit of both. Under the hood Windows 7 reports itself as version 6.1 (Vista is 6), and that's about right.
I see Windows 7 as a reaction to Vista's problems. Vista was too different from XP; Windows 7 makes small, generally pleasant but evolutionary changes. Vista was too incompatible; Windows 7 uses the same core architecture and pretty much everything that worked on Vista will also work here. Vista was too demanding on hardware; Windows 7 is said to perform better on the same hardware, and while I haven't had a chance to make the comparison, I can well believe it. Vista won a reputation for prompting the user too much with User Access Control security dialogs and others; Windows 7 is designed to be "quieter" and UAC has been tamed.
The build I have been trying is not feature-complete, and I am sure it will look, cosmetically, more different from Vista in its final release. Nevertheless, the points above are stated goals. The business world will greet Windows 7 with relief, and consumers will, I suspect, enjoy this release – but don't expect anything revolutionary.
My reflection: if Vista had not been disrupted by the false WPF-based trail shown at PDC 2003 but later abandoned, and also disrupted by Microsoft's security push which saw the Windows team focusing for a period on XP SP2 rather than Vista, then Vista itself might have most of what is now coming in Windows 7.
That said, if you are a Windows user you are going to like this release.