I installed Cyberlink PowerDVD on a new  Windows 10 PC (Fall Creators Update) and was annoyed to find that it opened whenever I put a CD into the computer drive.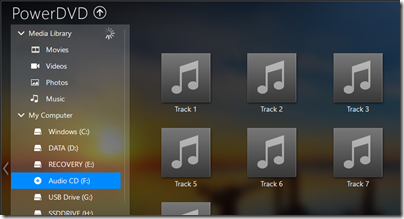 PowerDVD is a good DVD and Blu-Ray player though the company's products are among the most annoying in terms of pressing you to upgrade or buy additional products. I was not surprised that it had grabbed an autoplay association even though I did not recall getting any options on installation. Windows 10 is meant to give the user more control in this respect.
I typed AutoPlay into the Start menu and up came the Windows 10 settings. Autoplay is on, but there is no setting for CDs.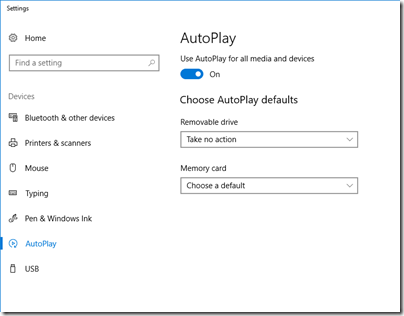 This dialog also has a link for Default App Settings so I clicked that.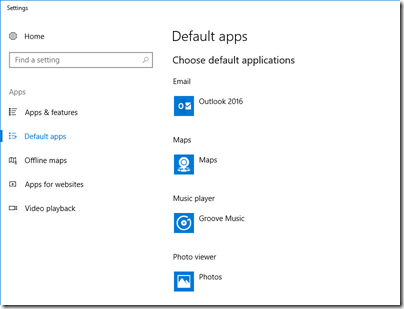 No setting for CDs here, though there is a default music player, and it is not PowerDVD. I clicked the link in this dialog for Set defaults by app and selected PowerDVD. Perhaps this would show me what it has hooked into.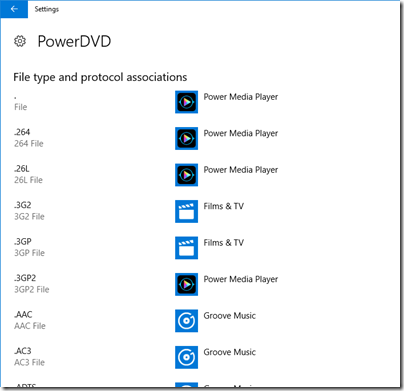 So apparently Power Media Player has grabbed the file association for files ending dot (no further extension) but it did not show how it was picking up CD autoplay. In fact, .CDA files are set to VLC. Further, if you don't like an association here, you can't easily change it. I clicked the dot link and got this: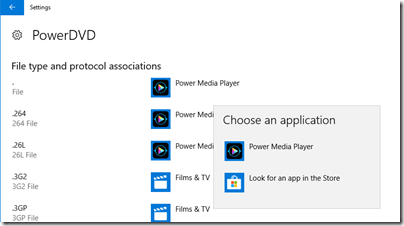 No, there is no option for "Do nothing"; and if you have ever clicked that "Look for an app in the Store" thing, you will know how unrewarding it is.
Hmm, I wonder if the old Control Panel can help? I opened Control Panel and typed Autoplay: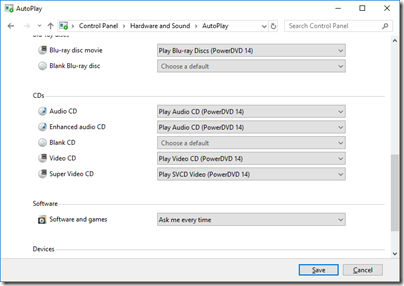 So there it is. A nice logical dialog, and I dropped down the list for Audio CD and Enhanced Audio CD and selected Take no action.
I've posted this for two reasons. First, in case anyone else struggles to find this setting. And second, because it shows how far Microsoft has to go before Windows 10 settings are coherent and logical for users.