The Guardian has my piece on CD mastering. An interesting point that was omitted for space reasons is how old LP records compare to recent CD issues. Of course LPs still have all the faults we remember (if you are old enough): surface noise, vulnerability to wear and scratches, and diminishing quality towards the inner grooves. Nevertheless, they are quite good enough to show off the benefits of better source tapes or mastering. In the article I showed how a U2 song was mastered much louder on a recently released CD collection than the same track on a CD from 10 years ago. Just for fun, I also pulled out the LP and compared the wave forms. The illustration zooms in on the opening bars. On the left is the old CD; in the middle is the LP; and on the right, the new CD. Note that in order to make this comparison I've normalized the volume so that the levels are similar. In otherwords, the "louder" CD has been reduced in volume to match the other two as closely as possible.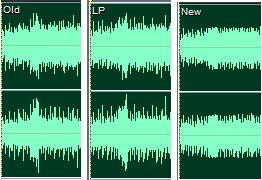 Note that the first two images, from the old CD and the LP, are more similar to each other than they are to the third image, from the new remastered CD. Note also the group of peak signals about one third of the way across. This is actually a roll of drums. You can see how these are limited in the remastered version, which looks almost as if someone took scissors to the waveform at that point.
You may be wondering how this affects the sound. The audible difference is not dramatic, but even so the clipped version sounds duller and the drums have less impact than on the other two.
In such cases, if you have to choose between the LP and a newly remastered CD, the LP will likely sound better.
That presumes of course that you have a turntable, arm, cartridge and phono pre-amp of reasonable quality. Nobody said it was easy.