The Linux Foundation Open Source Summit kicked off in Edinburgh today, with Executive Director Jim Zemlin declaring that the organization is now adding a new member daily. The Linux Foundation oversees over 150 open source projects, including Linux, Kubernetes, Let's Encrypt, Cloud Foundry and Cloud Native Computing Foundation, and has over 1320 members.
Microsoft has been a member for several years, but has now also signed up to the Open Invention Network (OIN), promising patent non-aggression to other licensees. It is a significant move which has boosted both the OIN and the Linux Foundation.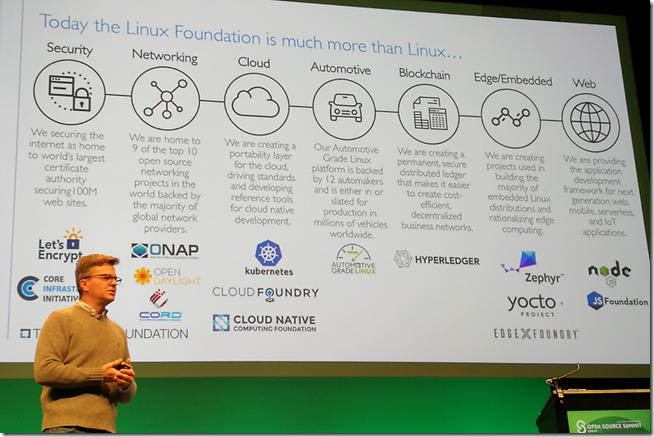 Linux Foundation Executive Director Jim Zemlin
Keith Bergelt,, CEO of OIN, took the stage to congratulate Microsoft on "facing the reality of the world as it is."
Another important recent event is the statement by Linus Torvalds, in which he apologises for brusque behaviour and says he is taking some time off Linux kernel development:
"I need to change some of my behavior, and I want to apologize to the people that my personal behavior hurt and possibly drove away from kernel development entirely. I am going to take time off and get some assistance on how to understand people's emotions and respond appropriately."
What are the implications for Linux? Nobody known; though LWN's Jonathan Corbet spoke at this morning's keynote to assure us that a new code of conduct in which kernel developers promise to be nicer to each other will be a good thing.
I interviewed Zemlin today and will post more from the event soon.