While reviewing Windows 7 I noticed an interesting new option when sharing files or folders in a homegroup – the ad-hoc network intended for home users, equivalent to the old peer-to-peer workgroup. In this scenario there is no central user directory, so it is difficult to set fine-grained permissions, such as when you want Sally to have read-write access to a document, but Joe read-only access. The messy workaround is to create user accounts for each user on each computer.
At least, that's how it used to be. In Windows 7 there is a new option, though it is not fully enabled in Beta 1 (what was that about feature complete?). Users in a homegroup can be identified by an "online ID" instead of a Windows username. In effect, this makes the internet-based ID provider into the central directory for your homegroup, and enables sharing with "specific people" rather than entire homegroups: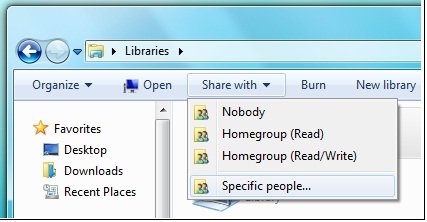 The further advantage is that this identity persists across different networks, as the documentation makes clear:
If you have an online account, such as an e‑mail account, you can link that account with your Windows user account. Linking these accounts lets other people share files with you on a homegroup using your online account name (or ID) instead of your Windows user name. This makes it easier for people to share files with you, because they can use the online ID they are familiar with instead of adding your Windows user account to their computer. For example, if you have an e‑mail account that your friends and family use to communicate with you, such as molly_clark@example.com, they can use that online ID to share files with you on a network. You can also use that online ID to access your information on other computers on a network, such as accessing files on a home computer from your work computer.

Linking your account is a two-part process. First, you need to add your online ID provider, and then you need to link your online ID with your Windows user account.
So what is this online ID provider? My immediate assumption was that it meant a Live ID. You have always been able to link a Windows account with a Live ID (formerly Passport), which gives you instant sign-in to Windows Live properties. However, the language here is different, suggesting a variety of ID providers rather than just Microsoft.
Here is another snippet of documentation:
To add an online ID provider

1. Click to open User Accounts.

2. Click Link online ID.

3. Click Add an online ID provider.

4. Select your online ID provider from the list and follow the instructions.

To link your online ID with your Windows user account

1. Click to open User Accounts.

2. Click Link online IDs.

3. Next to the online ID that you want to link your user account with, click Add linked ID.

4. Type your user name and password for the online ID and then click OK.
Unfortunately if you attempt to do this in the beta the list of providers redirects to the Windows home page. I was intrigued though – what technology is this, and who can be an online ID provider for Windows 7?
I asked Microsoft and got this answer:
Any service can choose to be an OpenID provider or a relying party. Customers of web sites that support OpenID can sign in with any OpenID provider.
Note that I did not ask about OpenID, only about online ID providers for Windows 7. Is Microsoft really hooking Windows 7 user identities to OpenID?
I was sceptical so I asked again. Here's what I was told:
Regarding your Windows 7 question around Online ID in the beta, the online providers are an ISV opportunity and are not currently enabled in the beta. With regard to Windows Live, please find the link here <http://dev.live.com/blogs/devlive/archive/2008/10/27/421.aspx> that discusses Windows Live becoming an OpenID provider with its recent release.
Something less than a clear-cut answer; but again directing me to OpenID and to last year's announcement that Windows Live will be an OpenID provider.
Still a few unanswered questions then; but I like the idea of linking local network sharing and online directories, which makes a lot of sense for home users that have no Active Directory. Actually it makes sense beyond that as well. I also like the idea of being able to select an OpenID provider as my preferred online identity provider, rather than having to choose Windows Live. It opens up the possibility of smooth integration across the local network and across a number of internet properties.
Do note though the lack of clarity in the answers I received, and that all the documentation is headed:
This content is preliminary and subject to change.