A feature of Microsoft's OneDrive cloud storage is that you can set it to upload photos from your smartphone automatically. It is a handy feature, in part as a backup in case the you lose your mobile, and in part because it lets you easily get to them on your PC or Mac, for editing, printing or sharing.
This feature used to work reliably on Windows Phone but I have not found it so good on Android. Photos never seem to upload in the background, but only when you open the OneDrive app and tap Photos. Even then, it seems to stop uploading from time to time, as if everything is up to date when it is not.
The fix that I have found is to open OneDrive settings by tapping the Me icon (not a particularly intuitive place to find settings, but never mind).

Then I turn Camera upload off. Go back to Photos. Go back to settings and turn Camera upload on again. It always kicks it back into life.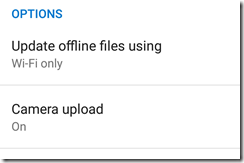 It is worth noting of course that Google Photos also has this feature and it is likely to be enabled, unless you specifically took care not to enable it. And cloud storage of photos on Google is free if you choose "High quality" for upload size. If you choose "Original" for upload size, you get 15GB free photo storage.
This being the case, why bother with OneDrive camera upload? A few reasons I can think of:
1. The Windows 10 Photos app integrates with OneDrive, showing previews of your images without downloading them and letting you download on demand.
2. You might have more space on OneDrive, especially if you use OneDrive for Business, which is now in beta
3. In a business context, automatic upload to OneDrive for Business has great potential. Think surveyors, engineers, medicine, anyone who does site visits for work
4. For consumers, it probably does not make sense to spread your stuff across both a Microsoft account and a Google account. If you have picked Microsoft, maybe because you use Windows or because you would rather trust Microsoft than Google with your personal data, then you would want your photos to be in OneDrive rather than Google Photos.
It is therefore unfortunate that in my experience it does now work right. I am not sure if this is just a bug in the app, or something to do with Android. In the end though, it is just another niggly thing that pushes Android users away from Microsoft and towards Google services.