I've just come across Microsoft's February 2009 cumulative update for Outlook 2007, thanks to a comment on this blog. This is apparently a pre-release of what is coming in Office 2007 SP2, promised for release between February and April 2009 – yes, that's round about now.
As for Outlook, if you are keen to get the fixes immediately there are three documents to read. This one describes the update, and you should settle down for a long read. The bit people will likely care about most is this:
Performance and responsiveness are key concerns for all our customers. That is why we made the large performance tuning and optimization changes that are included in Office suite Service Pack 2 (SP2).
Outlook 2007 SP2 delivers performance improvements in four major areas:

General Responsiveness
SP2 reduces I/O disk usage and UI response time.
Startup
SP2 removes long operations from initial startup.
Shutdown
SP2 makes Outlook exit predictably despite pending activities.
Folder/View Switch
SP2 improves view rendering and folder switching.
In other words, the patch promises to fix that annoying "The data file … was not closed properly." message as well as speeding performance.
In case you are not aware of how much these problems have troubled users, look no further than this blog. This post on Outlook slowness, from November 2006 gets thousands of views every month and has 190 comments; this follow-up from February 2007 is equally popular and has 144 comments. 
So how do you get the patch today? It is an unsupported hotfix, which means you have to request an email link from one of two pages. Here I must admit to being confused. I've carefully read the paragraph on update information and it still makes no sense to me. It says that to download the update you need this hotfix (961752); but adds that:
For full Outlook functionality, you can install the Cumulative Update package that is associated with the following Microsoft Knowledge Base article: 967688
You might think then that the first hotfix is included in the second; but curiously the second supposedly cumulative update is much smaller than the first. Both hotfixes are dated February 24th 2009. I took a cautious approach and applied them both, in KB order, and it seemed to work. Alternatively, wait for the complete SP2.
When you run Outlook after applying the patch you get this dialog: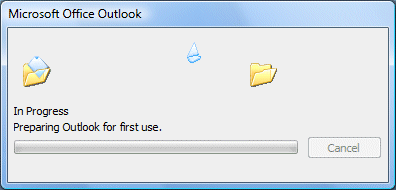 Apparently this is the reason:
Immediately after you install the SP2 update, the first startup of Outlook will not be fast because Outlook must update internal PST data structures that are used in our optimizations. This is a one-time cost, however, and it affects just the initial startup. As soon as the data structures are updated, Outlook can then benefit from the improvements.
Is Outlook 2007 really fixed? We'll see; but I'm hopeful there will be real improvement. Reading the knowledgebase article, it sounds like Microsoft took the problem seriously. There are hundreds of other bug fixes too, though I guess some of these have been fixed for a while – this is a cumulative update after all.
Vista's well-documented problems at launch combined with the desperately slow Outlook 2007 was a one-two punch that must have cost Microsoft millions of dollars, and early adopters suffered significantly in terms of lost productivity. Vista is not so bad now; if Outlook is fixed too then all that remains is to hope that Microsoft never again shows such low regard for its customers.