I'm mostly using Vista 64-bit these days and enjoying it. The system is stable, fast and responsive. At least, it was until I started using a dual display; this morning I got a blue-screen, which Windows assured was because of the display driver. I also noticed that the Windows Problem Reports and Solutions applet said that my Intel network driver was causing problems and should be updated, so after updating the NVidia graphics driver, I also downloaded the latest from Intel and tried to run it.
It wouldn't install. It got almost to the end, then declared:
Error 1713. Intel Network Connections cannot install one of its required products. Contact your technical support group.
The event log also refers to System Error: 1605. This means: This action is only valid for products that are currently installed.
The solution is to uninstall the existing Intel networking utility. Not easy, since bizarrely the uninstall fails with a report that the software is not designed for this version of Windows. So why did you let me install it then? And why not let me remove it?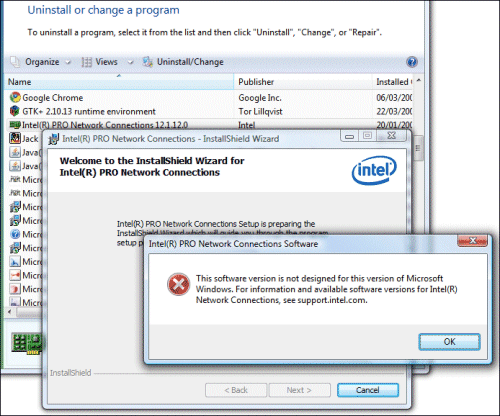 The next step is to use msizap, also known as the Windows Installer Cleanup Utility, to delete the installation from the Installer database. Note that it doesn't install any actual files. I downloaded the cleanup utility here, but it did not work; when I tried to run it, the GUI did not appear. That download seemed quite old, so I installed the more recent Windows Installer 4.5 SDK which includes an updated msizap. That version is command-line only, but I copied the new msizap to the Windows Installer Clean Up folder in Program Files (x86); then the GUI worked too. Removed the Intel networking utility, re-installed the updated driver, and all is well.
Thank also to this thread for some useful pointers.