A new feature in Windows 7 has been announced as part of the Release Candidate rollout. Called XP Mode (XPM), it lets users run applications in a virtual instance of Windows XP itself, for excellent compatibility. Although not part of the retail Windows 7, XPM will be a free download or may be installed at no extra cost by PC vendors.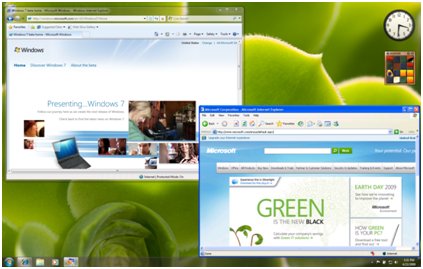 The neat aspect of this is that XP applications don't have to run within an XP desktop, but can be published to the host system. What this means is that users can start an XP application from the Windows 7 desktop, and only see the application window. This is more user-friendly than having to cope with two operating systems at once.
The main advantage is compatibility. Since this really is XP, pretty much anything that works on XP should run correctly. That said, since the hardware is virtualized there could be issues with some devices, or with applications that require accelerated graphics.
Another aspect is security. For example, if you have some applications that do not work properly with UAC (User Account Control) enabled, you can run them in XP Mode rather than compromising the security of the entire system.
It is a clever move from Microsoft, since it will remove most compatibility concerns that could otherwise impede adoption.
Another interesting new feature is Remote Media Streaming:
Windows 7 offers new functionality called Remote Media Streaming that enables you to access your home-based digital media libraries over the Internet from another Windows 7-based computer outside the home. Simply associate two or more computers running Windows 7 with your online ID provider credentials (such as your Windows Live™ email address and password) and allow Internet access to your media.
says the press release. This feature extends to any PC in your home network, so if you have a fast enough connection you need never be parted from your music. Then again, you could just run Spotify. There's also support for MOV files in Windows Media Player.
There's a few more detail changes in the UI; I'll report further when I've had a look.
Windows 7 RC will be released to Technet and MSDN subscribers on April 30th, and made generally available on May 5th.