Yesterday I met Adobe's Duane Nickull for a chat about the company's efforts in SOA. Nickull is a battle-scarred enterprise architect with a deep knowledge of SOA standards, who is now a senior technical evangelist for Adobe. He represents what I think of as the other Adobe: not the company that does things you would not believe in Photoshop, but the one that has created an end-to-end development platform with LiveCycle Enterprise Suite (plus your favourite application server) at one end, and Flex at the other.
It is an aspect of Adobe that deserves more attention. For example, this note in Anil Channapa's What's New in LiveCycle Data Services 3 caught my attention:
The LiveCycle Data Services 3 beta supports an acknowledge capability that enables all communications between Flex-based applications for Flash and the LiveCycle Data Services server to be guaranteed. All that you have to do is mark the LiveCycle Data Services 3 beta server destination as reliable.
I think this is huge. As Channapa goes on to note, for developers contemplating ecommerce or financial applications, this is a key feature.
I learned from Nickull that this feature is based on WS-RX and that in general we should expect more WS-* implementations to turn up in LiveCycle ES. RESTafarians will be sceptical, but I suspect this will help Adobe to make inroads into enterprise development.
That said, I do think Adobe has issues positioning and promoting LiveCycle ES. The more glitzy Creative Suite tends to grab all the attention, and indeed accounts for by far the largest slice of Adobe's revenue. When I attended MAX in Milan last year, I don't recall any mention for LiveCycle in the keynotes; it was one of those things you had to discover, though there were some excellent sessions on the subject.
I think Adobe should push LiveCycle ES harder, particularly as a business model based mainly on selling a huge suite of design tools strikes me as precarious. Adobe is making a start and has announced a LiveCycle@MAX bundle for MAX 2009 [warning: autoplay sound] in early October.
The LiveCycle ES brand encompasses what used to be Macromedia's Flex Data Services as well as Adobe's PDF-oriented software for managing workflow and data gathering. If you look at Adobe's LiveCycle ES page, it all seems PDF-centric and Data Services is hidden away as the last item under Data capture.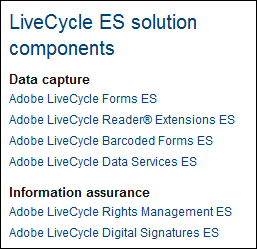 In reality LiveCycle Data Services ES has a lot to offer even if you don't care a bean about PDF, but that is a fact that is easy to miss. Another positioning issue. Adobe has been over-zealous in its PDF-with-everything strategy.
I also asked Nickull how Acrobat.com fits with with Adobe's SOA strategy. He said that a move to application hosting would be a logical one, though he implied that it would be geared towards SMEs.
Host your Java application on Adobe's servers, with built-in LiveCycle Data Services for your Flex client? That makes sense to me.