The campaign at fixoutlook.org is brilliant. Outlook 2010 will have broken HTML support, it says, because it will use Word to render HTML:
Microsoft has confirmed they plan on using the Word rendering engine to display HTML emails in Outlook 2010. This means for the next 5 years your email designs will need tables for layout, have no support for CSS like float and position, no background images and lots more.
The web page hooks into Twitter and displays avatars from – currently – over 20,000 supporters.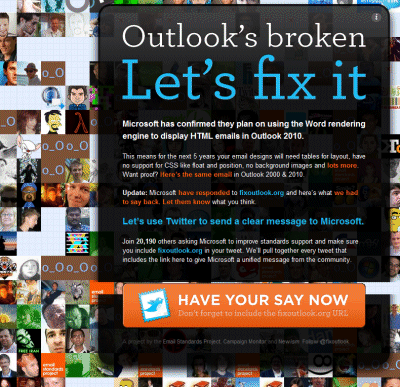 Here's a few things the campaigners do not mention. First, the Word rendering was introduced in Outlook 2007. It is not a new issue; and in fact caused some commotion last time round.
Second, using Word to render HTML is safer. Here is the bit of Microsoft's response that matters to me:
For e-mail viewing, Word also provides security benefits that are not available in a browser: Word cannot run web script or other active content that may threaten the security and safety of our customers.
I recall endless security problems with embedded Internet Explorer in earlier versions of Outlook. I used to set Outlook to display as plain text; and even then there were scenarios in which IE could be exploited.
Third, I have no enthusiasm for emails laden with "rich" HTML, JavaScript, Flash and the like. These kinds of emails are invariably marketing and usually not worth reading. What is the "Email Standards Project"? It's nothing to do with the W3C. The major sponsor appears to be Freshview, whose main product is Campaign Monitor:
Built just for designers, Campaign Monitor is 100% rebrandable email marketing software. Send campaigns for yourself, your clients or let them send their own at prices you set.
I am not averse to simple formatting in emails, for which Word is more than adequate. I agree that Word is not good as an HTML editor or renderer; but in this context it matters little – though I was even happier with the simple HTML editor Outlook used to have for those who disabled Word integration.
Therefore I am opposed to this campaign and suspect that many of the signatories have clicked with little thought or investigation.
That said, there is plenty wrong with Outlook. Dire performance issues in Outlook 2007; the most impenetrable user interface in general use; broken RSS support that fails to integrate sensibly with either Exchange or Internet Explorer; an archiving system that by default leaves users that have more than one PC with archives all over the place and in hard-to-find locations; and plenty more.
It would be great if Microsoft would fix Outlook; but not, please, by returning to embedded IE.