Microsoft has released a semi-public preview of Office 2010 – not a beta, so more than ever subject to change – as announced at its Worldwide Partner Conference in New Orleans. I've been trying it out, and wrote a quick review for The Register.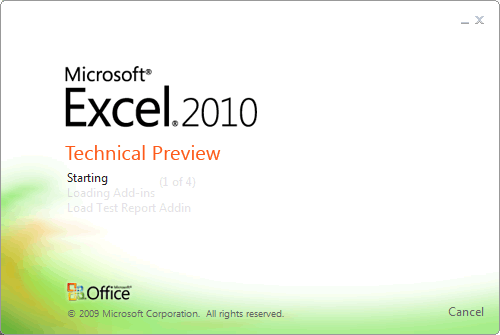 For the most part this is a refinement of Office 2007 rather than anything new and radical. That's not a surprise; Microsoft's boldest ideas (like the Ribbon) tend to survive for at least two versions before being sidelined, and I doubt the market would have responded well to anything disruptive this time around.
Still, there are two things which deserve highlighting. One is 64-bit; this is overdue and most welcome, even though many, probably most users will not notice the difference. For those that do, it really matters.
The other is the web applications. Although the obvious spin on this is that Microsoft is taking on the likes of Google, Zoho and Adobe Acrobat.com, it is important not to miss the other angle, which is that SharePoint is now firmly in the centre of Office. The web applications are built on SharePoint, and for the first time you can do your work equipped with nothing more than a browser.
Office Groove is now called SharePoint Workspace and lets you synchronize a SharePoint site to your local PC or laptop.
Presuming this works satisfactorily, it makes SharePoint both more usable and more compelling. I know plenty of small businesses who have looked at SharePoint in Small Business Server but never been able to make sense of it; these new approaches may well make the difference.
A side effect, which I am sure has not gone unnoticed by the folk at Redmond, is that shifting away from SharePoint to OpenOffice is harder then shifting from Office to OpenOffice. Lock-in is alive and well.
Another snag with SharePoint is that it gets very expensive once you start trying to use all its features. However, this is what I was told about licensing the web applications:
The Web apps will be licensed along with the Office client apps, so when a business purchases Office through their volume licensing agreement, they get the license to run Web apps on their own servers.  For customers of Microsoft Online Services (SharePoint and Exchange hosted by Microsoft) customers will be able to subscribe to the Web apps.
It doesn't sound too bad; and the hosted option is important to note as well. Further, there will be some kind of free option:
400 million Windows Live consumers will have access to Office Web applications at no cost.
One day, Microsoft should start taking stuff out of Office, rather than putting it in. Who would not want a leaner Outlook? Maybe the new web applications built with Silverlight are the beginning of just such a new generation. 
I've posted some screenshots and further comments here.