Codegear is offering a free trial of Delphi for PHP … for a single day:

Long enough to evaluate a developer product? To my mind this is taking RAD a step too far. Just as well, since, this is what I got when I tried to download it: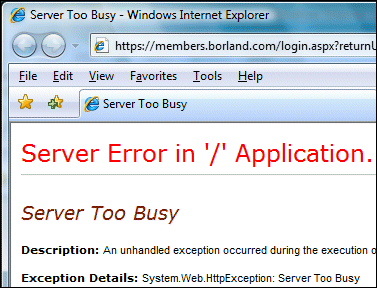 This means one of two things. It either demonstrates the huge interest in Delphi for PHP, or the unfortunate lack of scalability in CodeGear's server applications. Which, it appears, are not coded in PHP.
To be fair, the product has just been slashdotted. The thread is not especially illuminating so far, though I thought this was a telling comment:
For a reference, this is how this looks in plain PHP (granted no MVC and so on, but for the sake of example..):
<?php echo "Hello World" ?>
What does Delphi do?

Loads several thousand lines VCL code
Loads all the menu, form, container and "external" controls, although they're not used (thousands of lines of code)
The Hello World is a label (no simpler way) which has around 50 properties (color, bg color and what not) defined in an XML file. I left all at defaults, but never mind. The file is loaded, parsed.
The Label class inherits from CustomLabel, which inherits from Components which inherits from other stuff I didn't even bother check, it goes through all properties, and figures out after a lot of thinking that it should print the words "Hello World".
Yes, that's the trade-off with frameworks, though some are better than others. Now we need some counter-examples. Anyone?