I've been writing recently about Desktop Applications versus Web Applications, so as you would expect I have a keen interest in Microsoft's Office Web Applications, which enter technical preview today.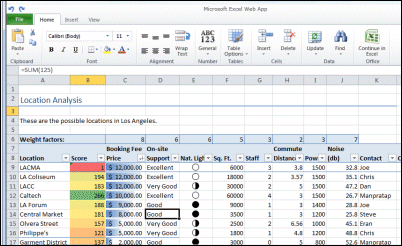 First, a few facts:
The Office Web Apps are Excel, Word, PowerPoint and OneNote
You will be able to view, create and edit documents in IE, Firefox and Safari, running on Windows, Mac or Linux.
The current technical preview is read-only for Word, and OneNote is not yet supported. Excel and PowerPoint support create and edit.
There are three ways to use Office Web Apps. Consumers are expected to use the free (ad-supported) Windows Live offering, where documents are stored on SkyDrive. Businesses can choose between Microsoft Online, which is a subscription offering, or on-premise hosting using SharePoint 2010. The free SharePoint services will be sufficient. You need a volume license for Office.
The Office Web Apps are essentially HTML apps. Silverlight is not required, but gives enhanced viewing with zoom and pan where available.
There is no offline functionality as such, unlike Google Apps. Of course you can save a document locally.
Office 2010 will let you load and save directly from SkyDrive, just as you can today with Office and SharePoint.
Office Web Apps will let you view old-style Office 2003 formats (.doc, .xls etc), but if you edit and save, they are saved in 2007 format (.docx, .xlsx etc).
You will be able to embed PowerPoint documents into other web sites, just like SlideShare, but not Word or Excel.
The paid-for variants add features including auditing, document history, backup and restore – in essence, SharePoint features.
Office Web Apps will be released at the same time as Office 2010. Full beta before the end of 2009, release before the end of June 2010.
I spoke to product manager Chris Adams. Some cynics, I said, are suspicious that Microsoft might deliberately hobble the web apps in order to preserve the advantage of the desktop apps. His response:
By hobbling them, we wouldn't be enabling that scenario of that anywhere working, anywhere flexibility, by making it a bad experience. We're focused on making the right functionality that we believe our customers want available through the web applications. There's sometimes the view that Microsoft is making web apps available as a competitive response and we're going to be difficult round about licensing because we need to maintain the Office "cash cow" business. We see web apps not only supporting better productivity experiences for our existing customers, but it also opens up the Office experience and Office brand for millions of new users worldwide.
I also asked about the developer angle and whether there will be an API for Office Web Apps. The answer is that SharePoint is the API, enhanced in SharePoint 2010 with Word Services, Visio Services and Access Services to complement the existing Excel Services. The further implication is that the API for Windows Live Office Web Apps will be weak. There are engineering differences between the Windows Live apps and SharePoint; Windows Live is not just hosted SharePoint. This also explains why the Technical Preview is less far advanced than you might expect; according to Adams, it is more advanced on SharePoint at the moment. Adams added that:
For the first release we're focused on a great end-user experience, the document fidelity and providing as rich an experience as we possibly can. There is a developer story round about Office running on a server, it's just not necessarily the web apps, it's provided for SharePoint services.
The full details will be given at the SharePoint conference in October 2009.