Ever wished computers had a "do what I mean" button?
Here's a case in point. I use Outlook/Exchange rules to sort email into subfolders. I set up a new rule, and was annoyed to find that while messages were correctly being moved into the selected folder, they were not being deleted from the source folder. In other words, I'd asked for move but I was getting copy.
Bug in Outlook/Exchange rules? I don't entirely trust them; but on this occasion it was my fault. The problem: these messages also matched another rule, which moved them to a different subfolder – the one, in fact, that I was treating as the "source folder". When confronted with two rules that both move a message, Exchange makes a copy. Whether that is the right behaviour is arguable, but it is not a bug.
Here's the solution. In the Actions for the rule, also check the option to "Stop processing more rules".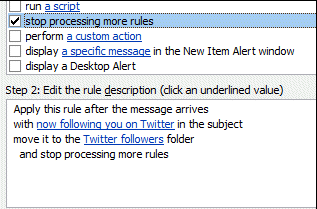 Problem solved.