A side-effect of migrating this blog to WordPress is that I can now use Windows Live Writer to author posts. It's a great little app, as noted today by James Governor, and has been favourably reviewed around the web since its first public beta in August (though I wish the team would add spell checking in languages other than US English). This review by Phil Wainewright is my favourite, because it gets the strategic potential. In addition, if Microsoft can get us hooked on Writer, we're more likely to start using other Live services like Maps – Writer has "insert Windows Live Map" on its menu bar – which ultimately results in more Live traffic and ad income.
A snag with this grand scheme is the poor performance of Microsoft's Live properties. For me, Live Writer works much better with WordPress hosted on my own site than with the Windows Live Space that I've set up as a trial, purely because Spaces is so slow. Live Local Maps is tardy too. As for the Live plugin gallery, this is what I get right now: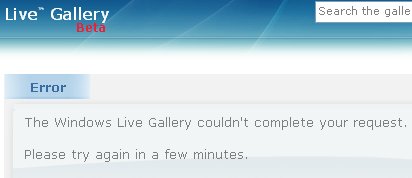 This is where Google scores so highly. It is not immune to problems, but most of the time it is remarkably responsive, whether for Search or Maps or other services.
I sometimes wonder if the folk in Redmond with fast local links just don't see these performance issues. It not just me though: here's the A9 report on Live Spaces: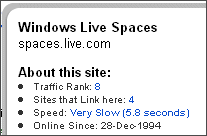 I don't mean to be negative. Writer is excellent, and offers a better user experience than any browser-based editor that I've seen.
Tags: livewriter microsoft .net live.com