There were two big themes at PDC in Los Angeles today. One was the Silverlight 4 beta, the subject of the most impressive section at the keynote. The other was the announcement of free laptops for every attendee – aside from press and government. It is remarkable how a generous gift can change the atmosphere. The lack of breakfast or Universal Studios party was soon forgotten as the audience cheered its own good fortune.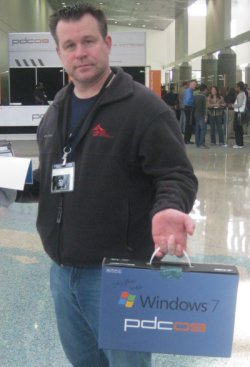 There is actually some justification for handing out this hardware. It's a decent machine, a modified Acer Aspire 1420P with Windows 7 x64, 2GB RAM, multi-touch display, and accelerometer. Most of us do not have multi-touch machines, and giving them to the core Windows developers who attend PDC may help stimulate the creation of applications that properly support this feature.
Otherwise, it was a Silverlight day. Although SharePoint 2010 was also in the keynote, the cheers it received felt more like relief, that it finally has sensible development and debugging tools in Visual Studio, than real enthusiasm. Somehow the keynote did not capture the potential of the product.
Silverlight though was well received. It is a huge release that opens up many new possibilities, though I am discovering some details that look awkward. There is also one troubling aspect, which is that Microsoft is introducing imbalance in its cross-platform story. The Windows version of Silverlight 4.0 supports COM automation, enabling integration with local APIs such as location on Windows 7, and Microsoft Office. There is no equivalent in the Mac release. It would not be so bad if Microsoft offered some route to similar functionality on the Mac, but there is none that I am aware of.
Microsoft folk that I spoke to about this dismissed it as a minor point, but it is not. Cross-platform is a discipline; this is a failure to observe that discipline and hands an advantage to Adobe Flash for developers that require broad reach.