I've been looking at the browser stats for 2009. According to StatCounter, Microsoft began the year with a 67.19% share for IE (versions 6-8 combined) and ends it with 55.23%. That's a 12% loss or an 18% decline, depending how you figure it.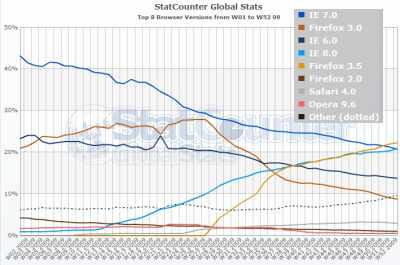 The biggest part of that share has gone to Firefox, which started with 25.08% and closes with 31.92 – a gain of 7% or a rise of  27%.
The big story is that Firefox 3.5 is now the world's most popular browser. Although true on these figures, it is also true that IE 7 on the way down is crossing IE 8 on the way up; it's possible that IE 8 will overtake Firefox sometime next year, though by no means certain.
However, there are huge regional variations. The UK loves IE: currently IE 8 is on 31.48% vs Firefox 3.5 on 19.2%, and IE overall is 56.02%. Germany on the other hand hates it: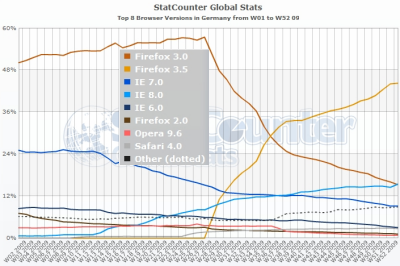 According to these stats, Firefox 3.5 has a 44.19% share in Germany and IE 8 just 15.32%. The USA is somewhere in between, though closer to the UK in that IE 8 is in the lead with 26.64%.
Overall, clearly a good year for Mozilla and a bad one for Microsoft.
What about the future? Well, it's notable that not all IE migrants are going to Firefox. The Other section is showing steady increase, and I'd bet that a large chunk of Other is based on WebKit, either in mobile browsers or in Google Chrome. Apple's Safari is also WebKit-based, and has increased its share significantly during 2009. Mozilla should worry that developers are largely choosing WebKit rather than Gecko.
A bigger concern for Mozilla is the big G, source of most of its income. Google pays Mozilla for search traffic sent its way. It cannot be good when your main customer has a product that competes directly with your own. I'm guessing that a Google browser will overtake Firefox during the next decade.