Today the mouse pointer disappeared on my Toshiba laptop running Windows 7 disappeared. I could see that the trackpad or mouse (it made no difference if I plugged in a USB mouse) was working, because I could see mouseover effects as I moved round the screen, but the actual pointer was not visible.
The immediate workaround is to go to Control Panel, search for Mouse, and click Make it easier to see the mouse pointer. Tab to Display Pointer Trails and press the spacebar. This lets you see the mouse at least while it is moving. It disappears again when stationary.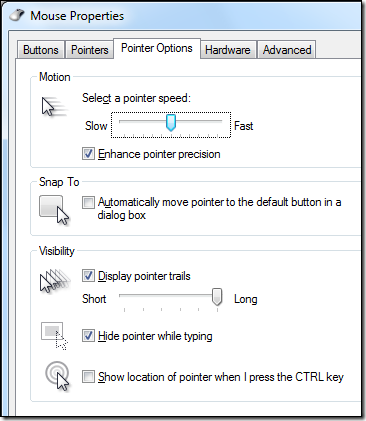 It's definitely an improvement; but not a complete fix. What is? Well, rebooting; but the problem may recur. Things that might help: tweaking display settings, updating the video driver, avoiding hibernation. If anyone has a definitive fix, I'd love to hear.
While I'm on the subject, here's another constant annoyance. Every new laptop install of Windows 7 that I've seen has a feature called tapping enabled. This converts taps on your touchpad into mouse clicks. It is the first thing I turn off. The reason it drives me crazy is that it always detects unintended taps. The consequences are severe: buttons appear to click themselves, dialogs close unexpectedly, work can even be lost.
Worse still, it is not an easy setting to find. First, you must have the proper driver installed – usually its a Synaptics driver, though downloaded from your laptop vendor's site. Second, you have to go to Control Panel, Mouse, Change Mouse Settings, Advanced tab, click Advanced Feature Settings, then click Settings under Detailed Settings for Touch Pad operations, then uncheck Enable Tapping. At least, that's how it is on mine; the path may vary slightly on others.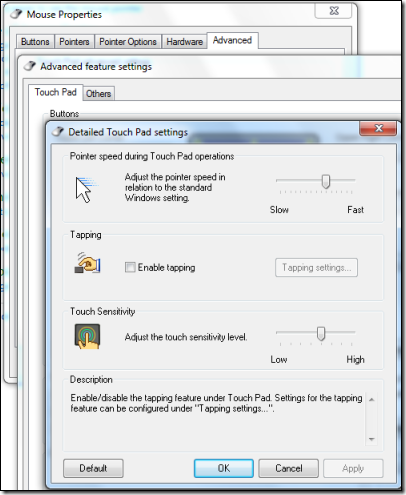 This is a setting that should be off by default; and a setting that should be easy to find, not buried under obscure labels like "Advanced".
I have lost count of the number of people who have been delighted when I've showed them how to disable this feature. "Thank you; I wondered why it kept clicking by itself."