A user contacted me about a problem installing Microsoft Office 2010, just released. He had gone to John Lewis, a department store with a good reputation for quality, and purchased a Windows 7 laptop that had Office 2010 pre-installed, along with a Key Card for Office 2010 Home and Business. The idea is that you run Office, activate it with your product key from the Key Card, and you're done.
Unfortunately the Office 2010 setup failed, after he had entered the product key but before it opened for the first time. The failure was in phase 3, whatever that is, gave a message about missing prerequisites, and advised to rerun setup, and if that failed to contact support. Repeating the operation gave exactly the same error.
This is bad, but the next question is who to call? He went online and got to Microsoft's UK support page. He clicked the option to contact a support professional. If you run through the options you get to this "support options" dialog: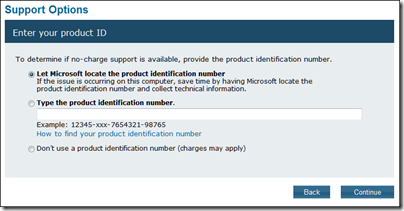 This dialog wants a product ID in order to "determine if no-charge support is available". However, the product ID (which is not the same as the product key) is accessed by running the product, and in this instance the product will not run. The diagnostics wizard could not locate it either. So we have option 3:
Don't use a product identification number (charges may apply)
Indeed, this leads to a demand for £46.00 before proceeding. Which hardly seems reasonable for a new setup on a new laptop.
Someone has thought of this problem, because earlier in the support pages this information appears: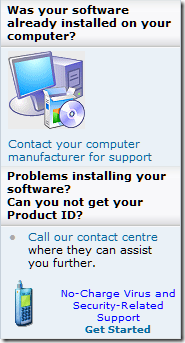 It has a link for "Can you not get your Product ID"? The suggestion is to "Call our contact centre" which leads to this page: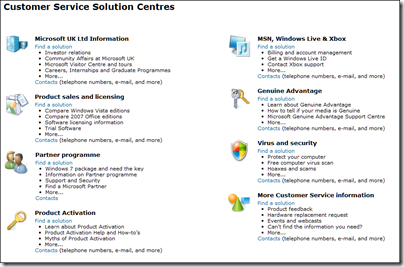 Whew! So you click something vaguely promising such as "More Customer Service Information" and end up with a link back to the product support page you have just left. Or you dial the number which appears: 0844 800 2400.
This is where the story gets a little confused. The user told me that when he first called, around 7.00am, he got two options. Help with activation, or chargeable support. Neither appealed. However, when he called again, around 10.00am, he got more options including a route to the free support he needed. Once he got through, the incident was dealt with speedily and effectively; he was soon up and running. It sounds odd to me, since the number does not indicate any specific hours of operation, but there it is.
Still, I think the support web site could be improved. Users get particularly frustrated when confronted with setup issues; configuring a new laptop is hard enough even when everything works. For example, if someone thought of the issue with not being able to get the product ID, why not also link directly to the correct number, instead of a page with 16 options, some of which lead you round in circles?