Browsing through Codeplex I came across this project to recreate iTunes as a Silverlight application. What's remarkable is that author Jose Fajardo has kept a kind of developer's diary on his blog, complete with YouTube videos here, here and here showing how he is recreating Apple's music app as a Silverlight/Ajax web application.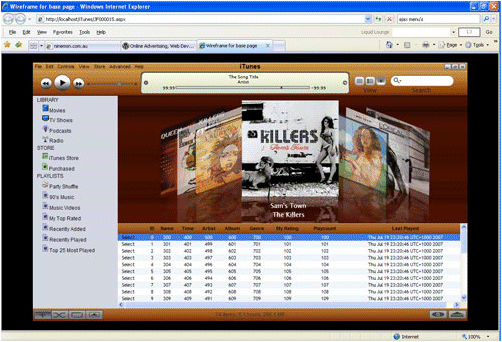 The videos are not exactly gripping unless you are interested in the nitty-gritty of how to create a control in Microsoft's Expression Blend and integrate it into a Silverlight application. If you are, then this sort of hands-on demo gives a great picture of real-world use. It's a also an intriguing example of how to replicate another company's expensive design efforts with just a few minutes in a suitable tool.
It looks like Fajardo is having a lot of fun with Silverlight, though if he completes the project I'm not sure what Apple will make of it. How's the DRM piece coming along?