I'm just back from Paris and the European launch of the Honor 8 smartphone.
Honor is wholly owned by Huawei though the relationship between the two businesses is a tad opaque. I've been told that Honor is run as a separate business focusing on a young internet-oriented market, though there is shared technology (it would be crazy not to). The Honor 8 represents a significant strategy shift in that it is a relatively high-end phone, whereas previous devices have been mid-range or lower.
One of the first things you notice about the Honor 8 though is its similarity to the Huawei P9, launched in Europe in April 2016, is obvious. That is no bad thing, since the P9 is excellent and the Honor 8 cheaper, but the business strategy is a bit of a puzzle. Honor says its phone is targeting a different market, and it is true that the shiny glass body of the Honor 8, in a pleasing blue shade on my review unit, is jauntier than the grey metallic finish of the P9. The P9 is also a fraction slimmer. Yet the devices are far more alike than different, and I would happily pull out the Honor 8 at a business meeting. The Honor 8 also benefits from a few extra features, like the rear smart key.
The P9 has the benefit of Leica branding and shared technology for its camera. An Honor/Huawei PR person told me that this is a software-only distinction and that if you look at the hardware sensors the two phones are very similar. Should photographers therefore get the P9? Possibly, though for a casual snapper like myself I have not noticed a big advantage. See below for some comparative snaps.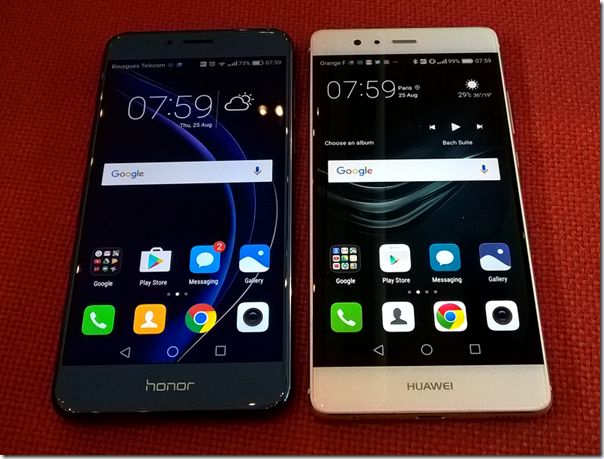 The Honor 8 (left) and the Huawei P9 (right).
To get a bit of context, the Honor 8 is being launched at €399 with 4GB RAM and 32 GB storage, or €449 with 4GB RAM and 64GB storage (inc VAT). That should equate to around £345 and £390 in the UK. The P9 was launched at £449 for 3GB RAM and 32GB storage, substantially more, though as ever real-world prices vary, and in practice a P9 today will likely cost only a little more than an Honor 8 if you shop around. The 8-core Kirin processor is the same, and the screen is the same resolution at 1920 x 1080. Both models also feature a dual-lens 12MP rear camera, 8MP front lens, and a rear fingerprint reader.
Out of the box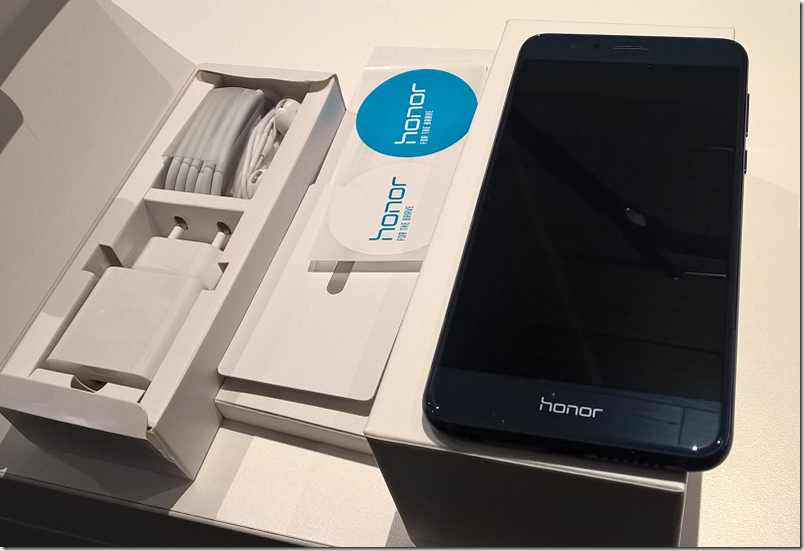 The Honor 8 immediately impressed me as a nicely packaged device. You get headset, charger, USB C cable, SIM removal tool, quick start guide (not much use but does have a diagram showing exactly where to insert dual Nano-SIMs and microSD card) and a couple of stickers for good measure. I am not a fan of the headset which lacks any ear-bud gels so it not secure or comfortable for me, but tastes vary.
The glass body is attractive though shiny and easy to smear. Honor can supply a simple transparent case – more a tray than a case – which will offer a little protection, but most users will want something more.
Switch on and there is the usual Android palaver and confusion over permissions. Here I did notice something I dislike. I got a notification saying I should "complete device setup" and "Allow App Services to push messages":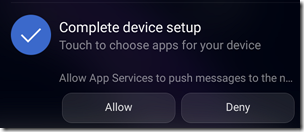 Rather than tapping Allow, I tapped the notification and found an app installer and an invitation to "Choose the apps that come with your phone". I tapped to see the EULA (End User License Agreement) and found it was a Sweetlabs app that "facilitates the recommendation, download and installation of third party apps."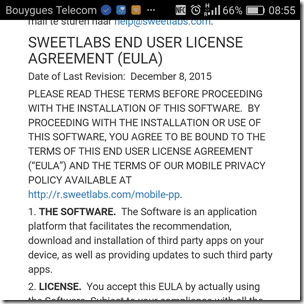 This is horrible; it is deceptive in that it is presented as part of system setup and performs no useful function since you can easily install apps from the Google Play store; at least one of the apps offered by Sweetlabs (Twitter) was actually already installed. My opinion of which apps are "Essential" differs from that of Sweetlabs: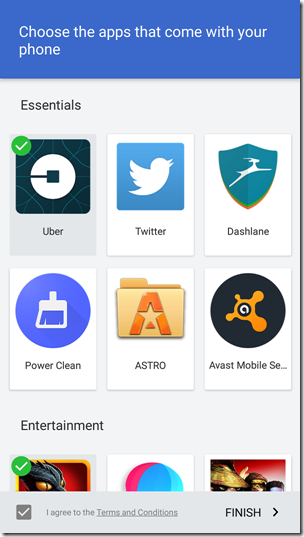 I did not agree the Terms and Conditions. We have seen this kind of thing before, on Windows, and it is damaging to the user experience. History may repeat with Android.
Other than that, setup was straightforward.
Things to like
Fortunately, there is plenty to like. As on the P9, the fingerprint reader on the back is excellent; in fact, I like this feature so much that I sometimes absent mindedly tap the back of other phones and expect them to unlock for me. On the Honor 8 though, it is even better, since the fingerprint reader is also a "Smart key" which you can configure to open an app or take an action such as starting a voice recording or opening the camera. You can configure up to three shortcuts, for press, double press, press and hold.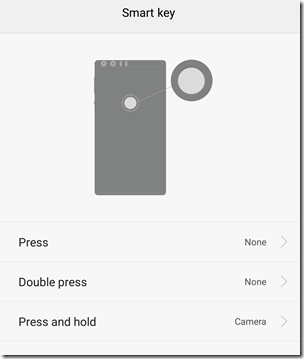 Another neat feature, also not on the P9, is the Smart Controller. This is a universal infra-red controller app and it seems rather good. I pointed it at a Samsung TV and after trying a few functions it declared a "best match" and seems to work fine.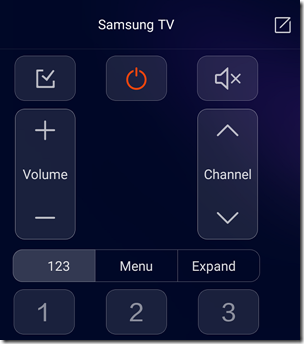 The camera
The camera is a key selling point for the Honor 8. One lens is RGB, the other monochrome, auto-focus is better with two lenses, and the ISP (Image Signal Processor) takes advantage by recording extra detail. There is also a great feature called Wide Aperture which lets you adjust the focus after the event.
When the camera app is open you can swipe from the left to select a mode. There are 16 modes:
Photo
Pro Photo
Beauty
Video
Pro Video
Beauty Video
Good Food
Panorama
HDR (High Dynamic Range)
Night Shot
Light Painting
Time-lapse
Slow-Mo
Watermark
Audio note
Document Scan
After just one day with the device I have not tried all the modes, but did take a look at Pro Photo which gives you control over the metering mode, ISO sensitivity, shutter speed, exposure compensation, focus mode (automatic or manual), and white balance.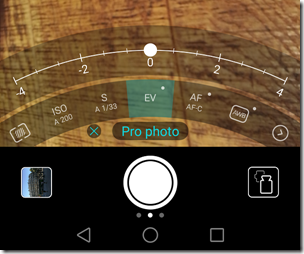 These same controls are on the P9 though with a slightly different UI and this causes me to wonder exactly what is the Leica contribution that is on the P9 but not the Honor 8. There are a few extra settings on the P9 if you swipe in from the right, including film mode, RAW mode and a Leica watermark option.
How is the camera in use? I took some snaps and was pleased with the results. I also tried taking a similar picture on the Honor 8 and the P9, and comparing the results: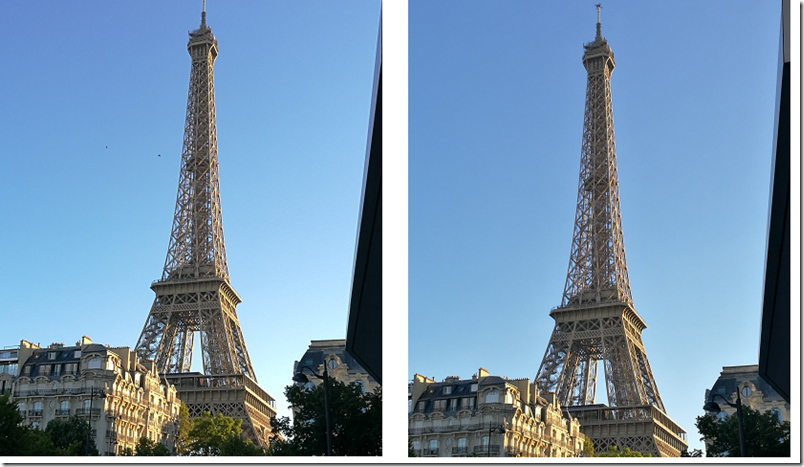 A Paris landmark (P9 left, Honor 8 right)
You can't tell much from the full view, especially since I've resized the images for this post, so here is a detail from the above:


Detail view (P9 left, Honor 8 right)
Much difference? Please do not draw conclusions from one snap but these support my impression that the Leica-enhanced P9 takes slightly sharper pictures than the Honor 8, but that a casual user would be happy with either.
Performance
The performance of the Honor 8 seems similar to that of the P9 which I reviewed here. The P9 features a Kirin 955 SoC versus the slightly older Kirin 950 in the Honor 8; the specs are similar. Both have 4 Cortex A72 cores, up to 2.5GHz in the Kirin 255 versus up to 2.3GHz in the Kirin 950. In each case, these are supplemented by 4 Cortex A53 cores at up to 1.8GHz and a quad-core Mali T880 MP4 GPU.
Geekbench 3, for example, reports 1703 single-core score and 6285 multi-core, one figure slightly worse, one slightly better than the P9. A run with PC mark came up with a Work Performance Score of 5799, below the P9 at 6387, with the difference mainly accounted for by a poor "Writing score"; other scores were slightly ahead of the P9, so something may be sub-optimal in the text handling and scrolling.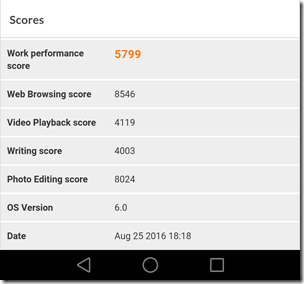 Conclusion
I do like this phone; it looks good, feels responsive, and comes with some distinctive features, including the superb fingerprint reader, dual lens rear camera, smart key and smart controller. It does not seem to me to be a young person's phone particularly, and I can see some people choosing it over a P9 not only for its lower price but also for a couple of extra features. Photographers may slightly prefer the P9, which also has a fractionally slimmer body and a more elegant, understated appearance. In the general phone market, the Honor 8 is competitively priced and well featured; I expect it to do well.