Palm may have abandoned its Foleo; but others are willing to take a crack at the sub-notebook market. Educational suppler RM has partnered with Asus to offer a Linux miniBook starting at £169.00 (around $300). That's substantially cheaper than a Nokia N800 internet tablet. Here are the specs:
Mobile Intel Celeron-M ULV 900MHz processor
7″ TFT screen
256MB or 512MB Memory, 2GB or 4GB Solid-State Hard Drive, SD card reader
Integrated Modem and LAN, Internal wireless 802.11g
Integrated webcam, microphone and speakers
3 USB ports, VGA out port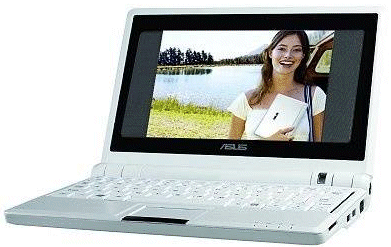 According to the press release:
Students will be able to use the RM Asus miniBook to send and receive email, create and edit documents, view photographs, play videos and MP3 files, browse the Internet, listen to online radio and participate in instant messaging.
It caught my interest because I am constantly frustrated at having to carry a relatively bulky laptop in order to get my work done. So I could be in the market for one of these, though it is aimed at students. Bluetooth is not mentioned, which is a shame as this helps with mobile phone integration. According to this post, based on a preview, Windows may be available as an optional extra – I presume this would be Windows Mobile – this article says Windows XP.
If the category succeeds, of course there will be others like it. Why will this be different than other failures or semi-failures, such as the Windows CE Handheld form factor, Tablet PC, or UMPC? Price, mainly. The mass market is reluctant to buy a sub-notebook when there are much more powerful laptops available for the same or less money. That's now changing, and at this level it just might catch on.
Technorati tags: rm, mini notebook, asus, linux, tablet pc, umpc, windows mobile