Adobe has launched Technical Communication Suite 3, which bundles FrameMaker 10, RoboHelp 9, Captivate 5, Photoshop CS5 and Acrobat X. FrameMaker and RoboHelp are Windows-only, so the suite is the same.
I had a brief briefing on the product today, which by coincidence came after my bad experience with SharePoint Designer and its help system. Please note: I do not hold Adobe responsible for the shortcomings of Microsoft's online help, but it helped me to put the subject into context. I was trying to figure out how to get SharePoint to display file extensions in document lists. The supplied help looks pretty: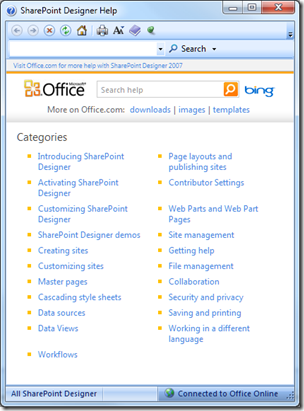 but I found it disappointing. I wanted to know, for example, what are the implications of converting a web part to XSLT, which is on one of the designer context menus: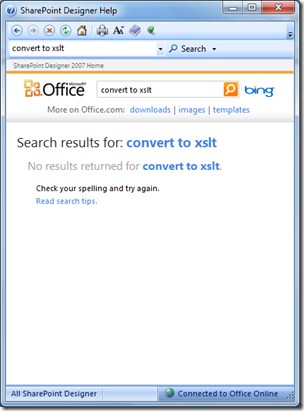 Same story when I wanted to know what the @LinkFileName formula was meant to return. And when I looked for a SharePoint formula reference I got one useless result, an article on creating a workflow initiation form.
What we all do in these situations is to hit Google. The snag: whereas the little online help (which is also meant to search Office online) had high authority but no results, Google has the opposite problem: many results but little authority. I did eventually find the formula reference I wanted but finding correct information on the web as a whole is a matter of luck and judgment.
I found it interesting therefore to talk to Adobe about its Technical Communication Suite. How is online help changing? Do we even need it, when people hit Google rather than F1? Maybe it is better just to make sure your help articles and reference are easy to find on the web, rather than packaging them up and calling it a help document? In which case, we should be thinking in terms of a content management system, rather than online help as such.
The answer I guess is "all of these". The key concept in Adobe Technical Communication Suite is "single-source authoring", and you can use the same content for web pages as well as for print and traditional packaged online help.
It is still a bit old-school for my taste. For example, you can now include External content search in RoboHelp documents; but this only lets you add external URLS to the document along with search keywords. It does not let you search external content, but restricted to specified web sites, which would be a nice feature.
That said, if you use RoboHelp Server 9 – not included with the suite itself – in conjunction with an Adobe AIR help client, you can get user topic rating and commenting, so there is some concession to user-generated content.
There are also plenty of scenarios where you do still need a blow-by-blow documentation and reference for an application. In fact, if the SharePoint help mentioned above had provided this, I would have been happy.
This is not a review of the Technical Communication Suite, though I hope to get a look at the actual product shortly. In the meantime, a few points of interest. FrameMaker has considerable feature overlap with InDesign; but Adobe says there is still a place for a desktop publishing tool aimed at long technical documents with strong support for structured documents, cross-references and indexes. RoboHelp now supports collobaration workflows using Acrobat.com and PDF review. There is also new support for ePub, the eBook format for everything but Amazon Kindle, in FrameMaker and Kindle. I asked about Kindle support; the Adobe spokesperson was sniffy about Amazon's proprietary MOBI format but said it might be added eventually if Amazon do not add ePub compatibility to the Kindle.