Appcelerator has launched its Mobile Marketplace, offering software components for mobile and web developers using Titanium, Appcelerator's cross-platform toolkit for Apple iOS, Google Android, and others – though only iOS and Android seem to be supported in the Marketplace currently.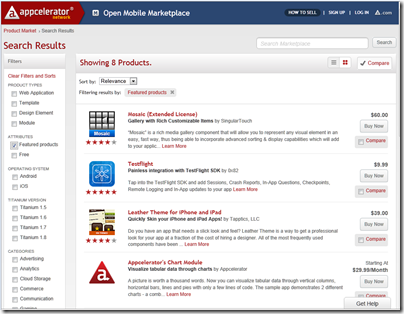 Developers create modules using the Titanium Module SDK, and get 70% of revenue.
I took a quick look and found it thought-provoking. I am a fan of user reviews, and one nice feature of the Mobile Marketplace is that it supports reviews and ratings. Finding out what other developers think of a particular component often involves trawling through Google searches, asking on forums and so on; a marketplace with authentic hands-on reviews has real value.
That said, when I checked out an example, LucidChart, which is a diagramming component with 5 star rating and four reviews, I was not impressed with the review quality, and puzzled that some of the reviews date from July, before the Marketplace opened. Still, developers can make their own judgment about the reliability of a particular review.
Many of the components are on a monthly subscription, on a per seat, per month basis. Some developers are uncomfortable with this model and the likely costs:
… charging such high monthly fees is a complete rip off. My entire Apple developer license only works out at $8.25, are you seriously thinking that a module is worth more than what Apple provide to developers for a fraction of the cost?
Another issue is that some of the products are not really code components, but developer services like TeamworkPM.
Some components are free though, and if the Marketplace attracts a reasonable level of traffic and interest then it could prove an excellent resource for Titanium developers.