I attended Microsoft's "Heroes Happen Here" launch in London yesterday, which overlapped the US launch presented by CEO Steve Ballmer. The launch is for Visual Studio 2008, Windows Server 2008, and SQL Server 2008, though these products are in varying degrees of readiness.
The event was marred by excessive reliance on buzzwords like "Dynamic IT" – someone should tell Microsoft that phrases like this, or "People Ready" which was used for the Vista launch, have no meaning. Dr Andrew Hopkirk from UK's National Computing Centre enthused about the general benefits of virtualization, which led to a comical moment later. I asked one of Hopkirk's colleagues what the NCC thought about Microsoft's Hyper-V or other virtualization technologies. "Oh, we haven't evaluated it," he said. "Most people use VMware and they love it".
I hate to be disloyal, but the US event which was relayed by satellite, and which hardly any of the UK journalists watched, was more up my street. Ballmer didn't shout too much, and I liked the drilldowns into specific features of the three products.
Still, after several dry presentations the UK event brightened up when Paul Curtis from EasyJet, a UK budget airline, showed us a proof-of-concept Silverlight application which the company plans to implement on its web site towards the end of this year. We saw an attractive Rich Internet Application which was a mash-up of flight routes and fares, Microsoft Virtual Earth, and reviews from TripAdvisor. Here's a blurry snap of how you might book a hotel in Barcelona. It's a compelling visual UI which of course reminded me of similar things I've seen implemented with Adobe's Flash and Flex. Behind the scenes the app will use Server 2008, IIS 7.0, and a SQL Server 2008 Data Warehouse, so this is the perfect case study.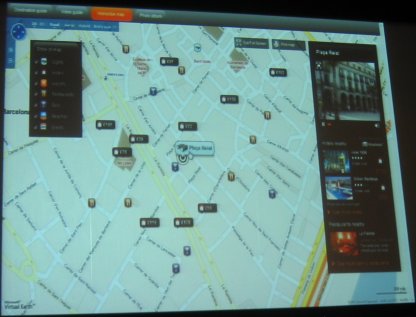 I wanted to ask Curtis whether he was happy with Silverlight's cross-platform capabilities, and why he was using Silverlight in preference to Flash. However, his bio states that he is a member of the Windows Live Special Interest Group and on the Microsoft Architect Council, so I suspect the answer would be, "it's what we know." It does support my impression that despite the rise of Flash, there is still a place for Silverlight within the large Microsoft platform community.
Finally, there was brief mention of high take-up for Microsoft Softgrid, which is described as "application virtualization". I've made this the subject of a separate post.
PS: I met blogger Mark Wilson at the event; he has a more detailed write-up.