At Mobile World Congress in Barcelona Nokia CEO Stephen Elop reminded the press that this is the anniversary of the company's big change of direction, when it adopted Windows Phone as its primary smartphone platform.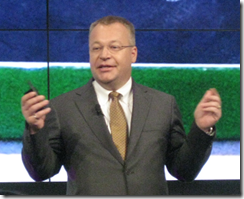 So how is it doing? Nokia's speed of execution has been impressive. Since that announcement, the Lumia range has been introduced around the world; we were told today that it is on the way to China. The large screen Lumia 900 with LTE support has been launched in the USA and is coming to other territories, the next being Canada.
Nokia is also continuing to launch new Symbian devices. Today we heard about the Asha 202 and 203 which have touch screens as well as keypads, and the Asha 302 which includes an app-capable browser and support for Microsoft Exchange, pushing at SmartPhone boundaries but at a lower price.
Perhaps the most interesting announcement today though was that Microsoft is lowering the minimum hardware requirements for Windows Phone 7 – a surprising move given that technology advances are already making the existing requirements less expensive. The new, lower bar is 256MB RAM and a slower processor. This enables Nokia to launch the Lumia 610 at 189 Euro.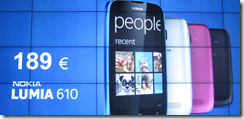 One of the intriguing questions: as Lumias fall in price, what is the future of Symbian at Nokia? The question was asked at the end of the press conference but not answered.
To add to the confusion, Nokia announced the Symbian-based 808 Pure View with a 41 megapixel sensor and "CD quality" recording. Apparently it is Symbian because it was developed before the Windows switch.
Nokia is betting on location-based services and announced improvements to Nokia Drive (full offline support) as well as Nokia Transport, for local bus and tram services.
Is Nokia's Windows adventure working out? That is the question, and remains a wait and see, though my judgment based on the first year is that it remains in the game. In a sea of Android here at Mobile World Congress it does at least have something distinctive to offer.