It depends. I saw Matt Mullenweg's post about new features in WordPress 2.5. He's included a video in several formats, and since the embedded Flash version didn't want to play (maybe bandwidth issues), I downloaded the AVI and double-clicked. Windows Media Player tried to play it, said it was acquiring the codec, and then played only the audio. This is what I got when I looked at properties: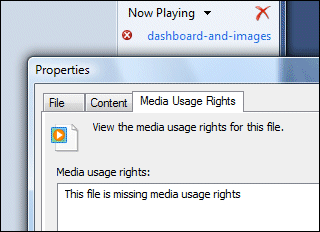 Did Mullenweg include restrictive DRM on his promo for the next WordPress? Unlikely. I right-clicked and chose to open in QuickTime. QuickTime said I needed some new components to play the file, and directed me here – but without telling me which of the 10 downloads on offer might fix the problem.
I right-clicked again and chose VLC. Perfect playback. But I was intrigued. I looked at the Stream and Media info in VLC and found that the video codec was TSCC. I looked this up and found it here. It is the TechSmith screen recording codec. I downloaded and installed the TSCC codec (ignoring Vista's insistence that it "did not install correctly") and now the file plays fine in both WMP and QuickTime.
Still, I have a couple of questions. If TSCC is a reasonably well-known codec, how come these players are not smart enough to direct users to the right download, or at least display the name of the codec to make it a little easier to find?
Second, why does WMP think media usage rights are missing? More Windows DRM madness.
Note: the problem with AVI is that it is just a way of bundling audio and video into one file. There are many possible formats for the internal streams, so just because one AVI file plays OK, it doesn't mean that another will. Hassles like this are one of the reasons Flash video is so popular.