I set up Windows 8 on my desktop PC, accepting the default Do Not Track setting. This is still set: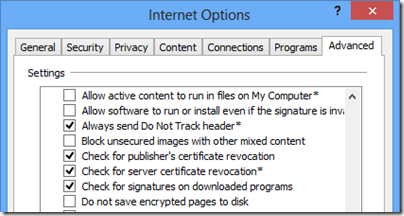 However I noticed Amazon ads served by Google/DoubleClick on a third-party site that reflected my recent activity on Amazon. I clicked the Privacy link on the ad (which links to Amazon rather than Google) and found this: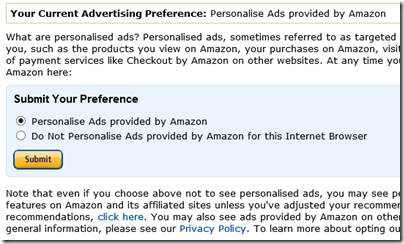 Note that this is not an Amazon account setting. The wording makes it clear that it is a browser setting, which you have to make for every browser you use.
Because your selection above is managed through HTTP cookies, if you delete these cookies or use a different browser, you will have to make this same selection again.
Clearly it also defaults to "personalisation" despite IE 10 being set to request "Do not track".
Kudos to Amazon for offering an opt-out; but no kudos for ignoring that I have already made a choice by sending a Do Not Track header.
Note there is no legal requirement to respect the Do Not Track header.