Microsoft has completed Windows Server 2012 Essentials, the kind-of replacement for Small Business Server (SBS) in the Server 2012 range.
I say "kind-of" because it does not replicate the old SBS idea of bundling Windows Server, Exchange, and optionally SQL Server into a single keenly-priced bundle designed to work on one or two servers. Instead, Essentials is designed to integrate with Office 365, online Exchange and SharePoint. There is also an option to integrate with on-premise Exchange but there is no special SBS deal for purchasing this so it will be more expensive than before.
Server 2012 Essentials has the following features and limitations:
Maximum 2 physical processors.
Up to 25 users, no CALs required.
May not be used as a Hyper-V host, but can be installed on a virtual machine (VM).
Includes Active Directory.
Includes simplified administration console.
If you hit the 25 user limit, you can transition to Windows Server 2012 Standard, but similarly to Exchange, this will not be such good value as the old SBS Premium which supported up to 75 users, even bearing in mind that CALs were required before once you got past 5 users.
When you install you get a couple of options, clean install or server migration: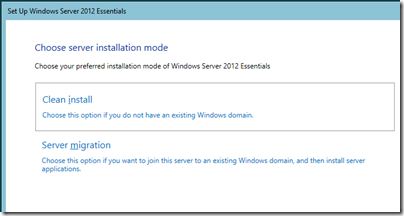 I picked clean install. Here is the initial screen: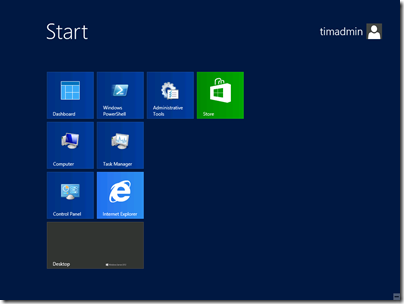 Why a tablet-friendly Start screen on a server? It makes more sense that first appears, since you might be accessing the server desktop from a tablet. In fact, the dashboard is deliberately touch-friendly as well, even though it is a desktop application.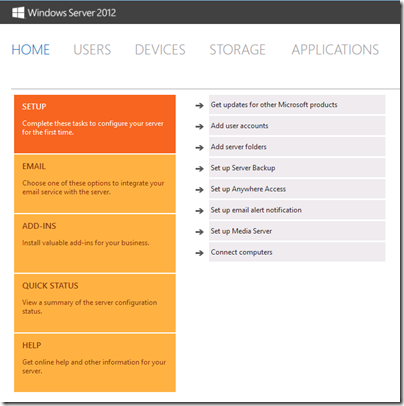 You can integrate with Exchange: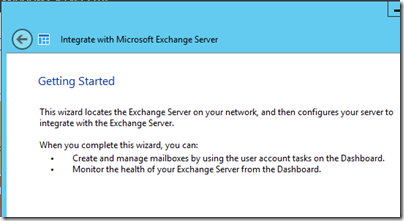 Alternatively you can link to Office 365, which is what I chose to do. Server Essentials does not use Active Directory Federation Services (ADFS) for single sign-on between the local domain and Office 365, but it does synchronize users and passwords. I asked why it does not do the job properly with ADFS, and was told that one reason is that the base Office 365 "P" subscriptions – which for various reasons I do not recommend – do not support ADFS.
Synchronization is useful but can go wrong. Password expiry for example is a big issue for small businesses; if passwords expire regularly by default as they do in both Server Essentials and Office 365, then users can get into difficulties with issues like smartphones where the password settings are buried. The impression I got at the press briefing is that password policy matches in Essentials and Office 365 by default, but if you change the policy in Essentials it will not automatically change in Office 365 (I hope I am wrong about this).
Server Manager is also present in Essentials. I was interested to see which roles and features are available.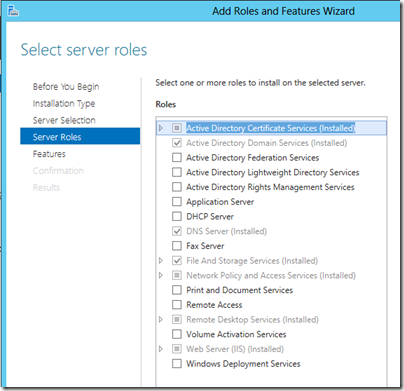 Missing from this list, compared to Server 2012 Standard, is Hyper-V and Windows Server Update Services.
Apparently you will be able to install SharePoint when this is available for Server 2012.
A strong feature of Server Essentials 2012 is a wizard to set up DirectAccess, which is called Anywhere Access here, and lets users access shared files on the server from anywhere over the internet.
Other interesting features are Storage Spaces, for cost-effective expandable and resilient storage, online backup of your data (though not yet full system backup), backup of client computers, and other Server 2012 features.
It strikes me that a smart way to set up Server 2012 Essentials would be on the free Hyper-V Server 2012. Then you could use a second Hyper-V Server and Hyper-V Replica to have a failsafe system.
But what about the question in my title: is this a good replacement for Small Business Server?
It depends. There are scenarios where this could work well, for businesses that have adopted Office 365 but still need a local server.
On the other hand, this looks like a poor deal for a business that has SBS 2011 Premium or an earlier equivalent and does not want to go the cloud route. Setting up the equivalent with full Exchange will cost more, and the advantage over plain Windows Standard 2012 is not particularly clear.
You can also argue that a small business that has gone for Office 365, having a local server is a retrograde step, introducing a maintenance burden that does not need to exist.
Nevertheless, if you meet the requirements of fewer than 25 users, this is a good value offering with most of the great features of Server 2012 available.