Outlook Web Access is useful on Microsoft's Surface RT, since the built-in mail client is only basic. However I noticed sluggish performance, which made me wonder if Microsoft's "Chakra" JavaScript engine is slow on Windows RT.
I ran the Sunspider JavaScript performance test on the Samsung Slate 7 I bought back in February, which has a 1.6Ghz Core i5, and compared it to the same test on Surface RT, which has a 1.3 Ghz NVidia Tegra 3 chipset.
The Samsung slate was 5.11 times as fast. Question: how much of that is down to the Core i5 being a faster CPU, and how much is down to a less well optimized Chakra engine?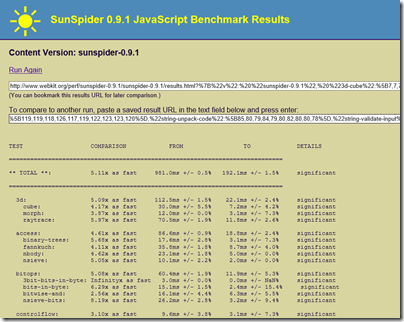 Incidentally, the Apple iPad 2 which has an Apple A5 processors running at around 890 Mhz is approximately 33% slower on the SunSpider test. Since the CPU is clocked 45% slower that is a good result for the iPad 2 and Safari.
A Google Nexus 7 on the other hand which has the same Tegra 3 chipset as the Surface is about 55% slower than the Surface, which is poor.