Readers of this blog will know of my dissatisfaction with both the IE7 feed reader and the RSS integration in Outlook 2007.
I've now posted the (VB.NET) code for my quick-and-dirty solution, the Hands On Common Feed List Reader.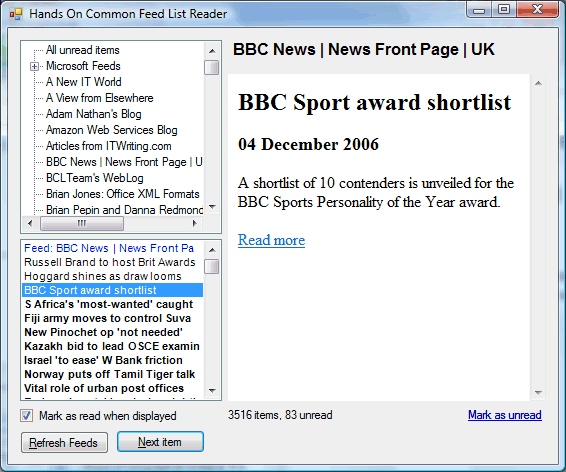 What problems does this solve? Mainly:
It allows me to browse through blogs by item and not by feed
It reads the feed list directly instead of Outlook's misguided synchronization efforts
It gives me a quick view of all unread items
Just to be clear, this is a reader for the IE7 common feed list. You still need to subscribe and unsubscribe using IE7. Lots of features could be added, but for now this works for me; however fixes and improvements are welcome.
Download the code here.
More on how this is put together in the February 2007 issue of Personal Computer World.
If anyone would like just the executable, let me know and I'll make a quick setup. Requires .NET 2.0.