I welcome the introduction of the RSS platform in IE7; I think a central repository for RSS feeds is a great idea, even though Outlook's RSS integration strikes me as totally broken.
But is it reliable? I was using it to browse Jensen Harris's excellent blog and noticed that the entries were from somebody else. A look at the feed properties reveals all: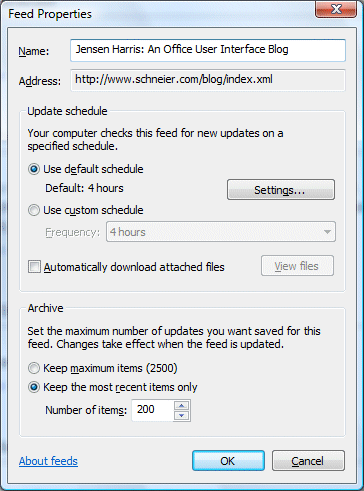 It appears that the RSS store had somehow zapped the blog, but kept its title attached to a different feed, Bruce Schneier's security blog as it happens.
I don't think I have much hope of discovering why this bug occurred, unless someone from the team would care to comment, but it does cast doubt on the RSS store's reliablity. Or could it be a problem with my blogreader app? The only time this writes to the store is when it marks a feeditem as read, which it does by setting the IsRead property on a FeedItem reference. Strange.