An email from Adobe alerts me to the release of AIR 1.1 for Linux beta, which I installed on my laptop which runs Ubuntu.
Installation is not quite so smooth as on Windows; you have to set execute permissions on the download before running it. It took only a moment though, and I soon had twhirl up and running, which is the only AIR application I use with any regularity.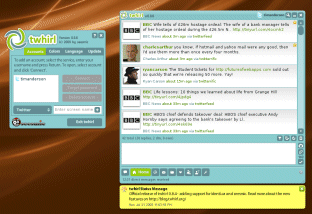 The release notes say that all features are available except DRM. If you want transparency support, you must have a compositing manager like Beryl, Compiz or Compiz-fusion installed. You can also download a Linux SDK.
I realise that most of the world only cares about Mac and Windows clients, but I like today's Linux desktop and kudos to Adobe for supporting it with AIR.