I am working on a review of Surface 3, Microsoft's recently released Atom-based tablet, and wanted to try Windows 10 on the device. How to do this though without endangering the correct functioning of my loan unit?
The ideal answer seemed to be Windows To Go (WTG), which les you run Windows from a USB drive without touching what is already installed – well, apart from a setting in control panel that enables boot from Windows to Go.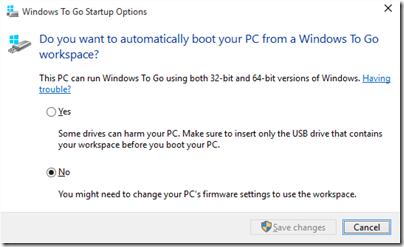 Luckily I have an approved Windows to Go USB drive, a 32GB Kingston DataTraveler Workspace. I downloaded the Windows 10 iso (64-bit, build 10074) and used the Control Panel applet on my Windows 8 desktop (which runs the Enterprise edition) to create a WTG installation.
(There are unofficial ways to get around both the requirement for Enterprise edition, and the need for an approved USB device, but I did not have to go there).
Next, I plugged the drive into the Surface 3 and restarted. Windows 10 came up immediately. An interesting feature was that I was prompted to sign into Office 365, rather than with a Microsoft account. It all seemed to work, though Device Manager showed many missing drivers.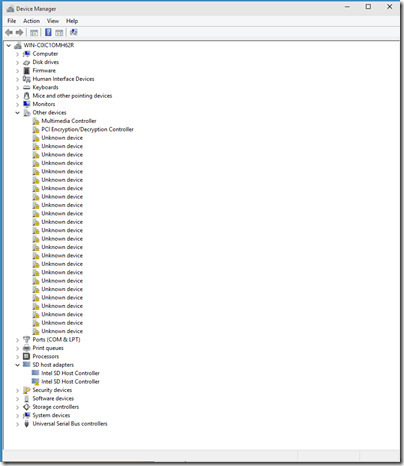 The wifi driver must have been one of them, since I had no network.
I had anticipated this problem by downloaded the surface 3 drivers from here. These were inaccessible though, since a WTG installation by default has no access to the hard drive on the host PC. I could not plug in a second USB device with the drivers on it either, since there is only one USB port on the Surface 3.
No matter, you can mount the local drives using the Windows Disk Management utility. I did that, and ran the Surface 3 Platform Installer which I had downloaded earlier. It seemed to install lots of drivers, and I was then prompted to restart.
Bad news. When trying to restart, boot failed with an "inaccessible boot device" error.
Fool that I am, I tried this operation again with a small variation. I rebuilt the WTG drive, and instead of mounting the drives on the host, I used it first on another PC, where the wifi worked straight away. I copied the Surface 3 files to the WTG drive C, then booted it on the Surface 3. Ran the Surface 3 Platform Installer, restarted, same problem "Inaccessible boot device".
The third time, I did not run the Surface 3 Platform Installer. Instead, I installed the drivers one by one by right-clicking on the Unknown Devices in Device Manager and navigating to the Surface 3 drivers files I had downloaded using another PC. That looks better.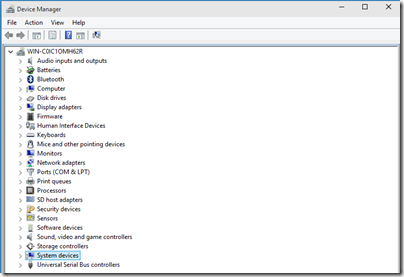 I restarted, and everything still worked. I have wifi, Bluetooth, audio, cameras and everything. So something the Platform Installer tries to do breaks WTG on my device.
The next question is whether the system will update OK when set to Fast for the Windows 10 bleeding edge. So far though, so good.
Note: there is an issue with power management. If the Surface 3 sleeps, then it seems to wake up back in Windows 8 if you leave it long enough. Not too much harm done though; restart and you are back in Windows 10.
Note 2: new builds will not install on WTG, they complain about an unsupported UEFI layout