Yesterday I journeyed to London to hear Kraftwerk perform Computer World at the Tate Modern.
A cold night, and I was glad to reach the warmth of the Tate Modern. We picked up our green armbands, and 3D spectacles, were instructed that no re-admittance was possible, and move on into the concert foyer where vaguely Germanic sausages, bread, chips and mustard was on sale, along with cans of flavourless beer.
It feels like a lot of attention has been paid to the total experience. The 3D glasses are packed in an envelope specific for the evening. The programme is only a sheet of A4, but it is informative and intriguing.
"A vision of bright hopes and dark fears of the booming microchip revolution, Computer World is a serenely beautiful and almost seamless collage of sensual melodies and liquid beatscapes," it says.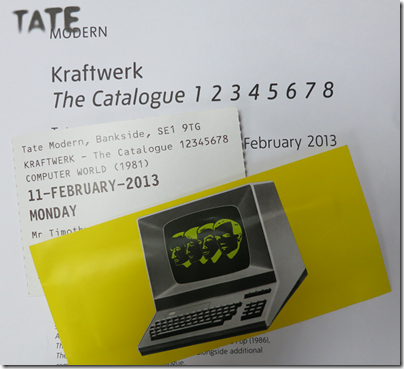 We move on into the concert space. Black pillows are handed out; essential if you plan to sit on the cold concrete floor. The hall is not huge, but it is exceptionally high. It is a relatively small crowd, and not entirely composed of middle-aged men as you might expect. The iPad-using guy next to us is 29, he says.
The concert starts at 9.00pm sharp. Everyone stands; forget the pillows then. Four men stand behind desks and barely move; the sounds of Numbers fill the hall, and 3D images pass across the screen.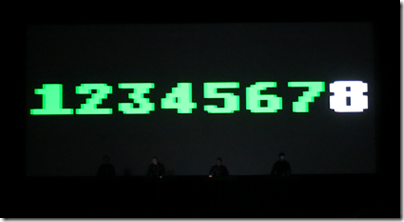 The images are integral to the show. The effect is more that of an animated slideshow than a film, with many loops and repeats. The images are iconic; watching the show is like walking round an art gallery, with one carefully composed image following another.
Lead man and co-founder Ralf Hütter is on the left and does vocals; I am not sure you can call it singing. What are the others doing? Are they playing real or virtual keyboards? Running programs? Tapping out percussion? It is all part of the mystery.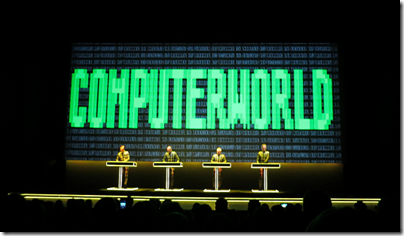 Next it is Pocket Calculator. I love this song. "I am adding. And subtracting." it says. It is about delight in technology. It is about doing things that would otherwise be impossible. It is about dehumanisation, no more pen and ink, columns of numbers, mistakes and crossings out, but just a few keys to press.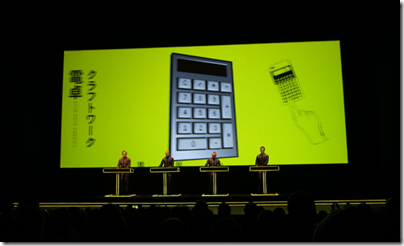 We no longer have pocket calculators so the whole thing is decidedly retro. Can you be simultaneously retro and futuristic? Apparently you can. The main car in Autobahn is a VW Beetle.
Autobahn as it happens comes rather quickly, after around 23 minutes according to my watch. That's odd, since Computer World the album is over 34 minutes.
We did not get the whole of Computer World and I want my money back.
Well, maybe not. The concert was stunning and I would not have missed it for anything. But I was surprised.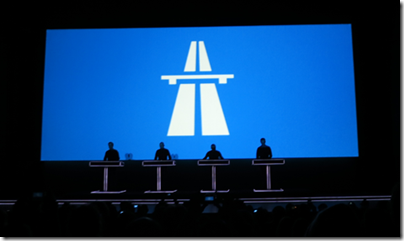 Autobahn seemed to go on endlessly, which is as it should be of course. Then the VW took the exit slip and it was over.
Radioactivity. This song has been updated and now features Fukushima alongside other nuclear incidents like Chernobyl.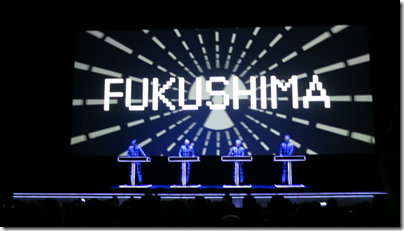 This is a disturbing song. "Radioactivity is in the air for you and me … contaminated population" The jolly melody is at odds with the subject matter, but it works; does it represent the PR machine?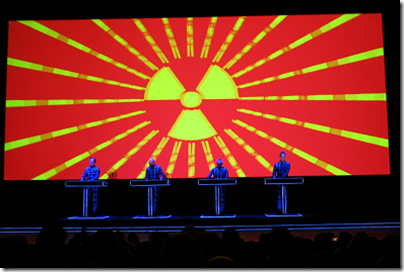 Trans Europe Express. The train song is perfect for Kraftwerk. The train rushes towards us. Travel. Communication. Engineering. Cold steel. Kraftwerk.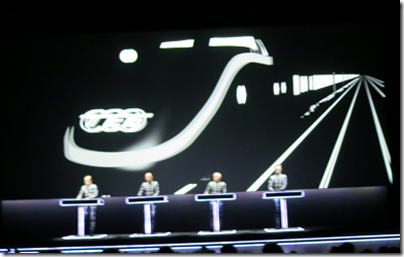 Two songs which are particularly striking live are The Robots and the Man Machine. The Robots come first.  This is where the band performing in front of the visuals works so well. What is more true, that the robots are human-like, or that the band is robot-like?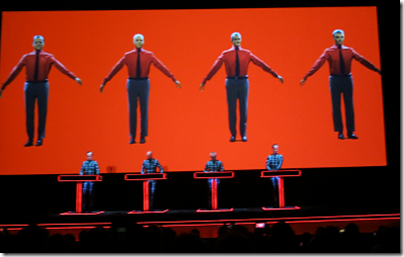 Are we, in fact, machines ourselves, making the whole question moot?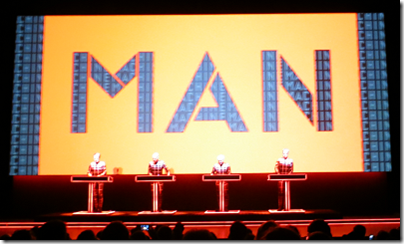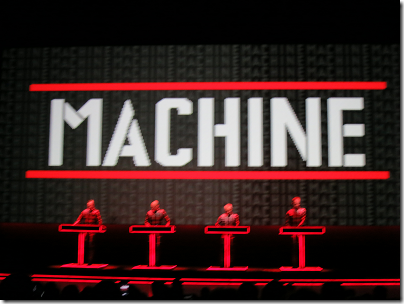 I have skipped over a few, songs in fact which touch on the more human side of Kraftwerk's art. After Space Lab, The Model is performed to a backdrop of black and white glamour girls, retro, unreachable.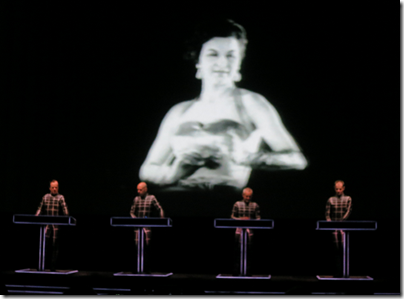 Neon Lights is a short, refreshing interlude. The melody is stark and beautiful. If Hutter ever sings, he sings here.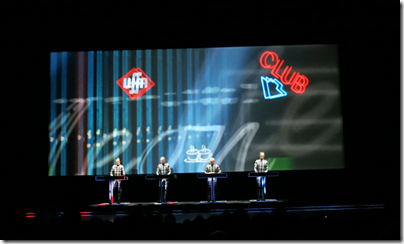 A note on the sound quality. In general, good, and not ear-splittingly loud for which I am grateful. It did get louder as the concert progressed, and I felt there were times when it distorted; but improved again towards the end.
There was true chest-shaking bass at times, something you had to be there to feel.
Tour de France is rather good. We see human endeavour, more black and white footage for the retro feel, and followed by Vitamins, making a point perhaps.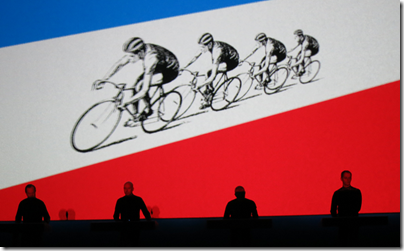 Vitamins give rise to some strange 3D effects. Giant pills seem to float out over the audience, but as they fall, they fall behind the band, breaking the illusion.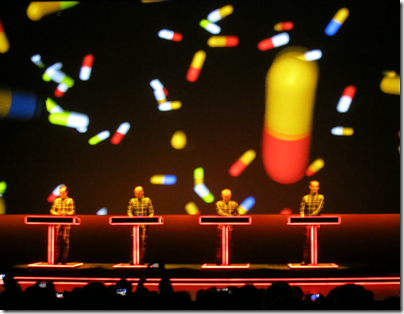 The Techno Pop section is the last in the concert. There is Boom Book Tschak, and another song I think, then Musique Non Stop, just as the concert is in fact stopping. The musicians leave the stage one by one, until only Hutter is left.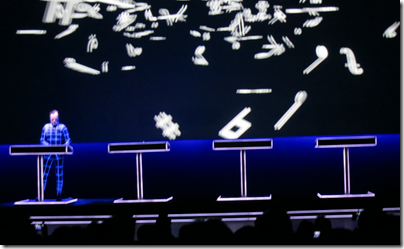 He moves to the right of the stage, he bows, "See you tomorrow". Unfortunately I will not. Then he is gone.
No encore. It is not the Kraftwerk way.
That was Kraftwerk. Repetitive, yes. Perplexing, yes. Beautiful, yes. Unique, yes.
Everything is ambiguous. Perhaps we are participating in an elaborate joke. It does not matter. Wonderful.
Setlist
Numbers
Pocket Calculator
Computer Love
It's more fun to compute
Autobahn
Radioactivity
Trans Europe Express
The Robots
Spacelab
Metropolis
The Model
Neon Lights
Man Machine
Tour de France
Vitamin
Planet of Visions
Boing Boom Tschak
Techno Pop
Musique Non Stop