The Stables is a delightful small venue near Milton Keynes, and when I saw that Ian Hunter was due to play there with his Rant Band I grabbed one of the last remaining tickets.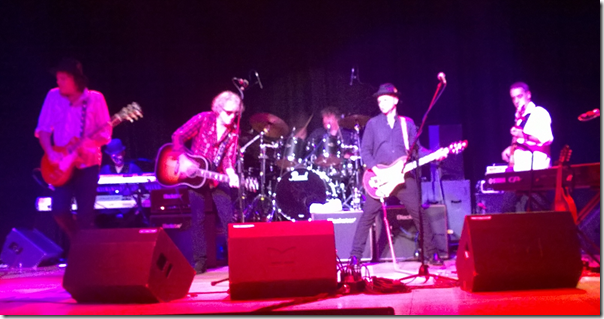 He came on shortly after 9pm, following an energetic set from support act Federal Charm, and told us in a croaky voice that he wasn't feeling too good. In that case he is a true star (he is anyway) since he went on to give a great performance; his voice was a little gruff at times, but hear him belt out Sweet Jane and you discover that he has no problem delivering powerful vocals when it counts.
I am a fan: I loved Mott the Hoople from the first time I heard them (it was the cover of At the Crossroads on the famous Island compilation Nice Enough to Eat); and both with Mott and on his work since, Ian Hunter is able to achieve a musical texture that is rich and evocative, as well as being able to rock out on occasion.
Hunter is a great songwriter too, coming over as an honest and thoughtful voice in an industry full of decadence and plastic.
I enjoyed every minute of the concert, even though I felt that Hunter's voice was mixed too quiet and that the sound overall could have been better. I have not seen him perform since Hunter/Ronson days; it has been far too long.
Highlights for me included When I'm President (a more recent song), Irene Wilde performed from the keyboard, a powerful rendition of Bastard, All American Alien Boy with its sharp reflections on life in the US of A, Once Bitten Twice Shy of course, Sweet Jane and the closing medley including All the Young Dudes, I Wish I was your Mother, and a strong performance of Boy. "Genocidal tendencies are silly to extremes" – I wasn't expecting to hear Boy (my hunch is that the lyric refers to Bowie's Diamond Dogs) but it was great.
Thank you Ian for keeping on keeping on; it was a wonderful evening.