In January 1972 I started at a new school. I had enjoyed pop music on the radio but it was here that I gradually became aware of things called albums, records with other-worldly sleeves and amazing propulsive music. I wanted them.
It look a while to get a record player of my own so I started with cassettes – taping everything I could find.
In April 1972 a single was released, Starman by David Bowie. It was catchy, it was extraterrestial, it was about listening to the radio at night (just like I used to do), it was about letting the children boogie, I loved it.
Moving on to the Ziggy Stardust album, Bowie became special to me. Looking back I am sure it was because I felt a bit of a misfit and Bowie's music and image was about acceptance and celebration of oddness, as well as exploring sexuality in ways that were appealing and mysterious to innocent young things like myself.
I kept the faith through Bowie's ch-ch-changes, Ziggy Stardust's retirement, the fractured world of Diamond Dogs, the strangely downbeat David Live, the funk of Young Americans, train noises and Earl Slick's frantic guitar on Station to Station, sombre electronica on Low, and then the unforgettable "Heroes", love in the shadow of the Berlin wall.
Bowie had his difficult middle period for sure, but was always interesting. He was an actor as much as a musician and one of the acts he performed was himself; with Bowie the difference blurs.
His work shows a deep interest in what it means to be human; he's content that the madmen "are just as sane as me" (with all the ambiguity that implies), his writing on outer space is also about inner space because if you imagine yourself "out there" you have nothing but yourself for company.
Bowie had huge artistic courage. I much regret not seeing his 1995 "Outside" tour when apparently some audience members walked out because he focused on his dark new material and not greatest hits.
That said, I was fortunate to see Bowie in concert on several occasions, starting with Earls Court in 1978, and including Milton Keynes Bowl 1983 and (most memorably) Nottingham's Rock City in August 1997.

Some Bowie memorabilia from my attic
This last was the closest I got to the man, playing in a small 1,500 capacity club venue and standing fairly close to the stage. He performed a long set with many of my favourites, the darker side of Bowie, starting with Quicksand from Hunky Dory "I'm sinking in the quicksand of my thought" and including I'm Afraid of Americans, Fashion, Fame, Under Pressure, White Light White Heat, and much of Outside.
Late period Bowie is more of an acquired taste than his early years but rewarding. I found The Next Day in 2013 moving and when he sang "Where are we now" of course I was transported back to my schooldays and asking the same question of myself.
Bowie was reclusive in his later years, especially after being injured on tour in 2004, and lived quietly in New York.
Today's news brought the news of his death, "after a courageous 18-month battle with cancer" according to his son Duncan.
This means that he composed his just-released album Blackstar in full knowledge of his illness and perhaps anticipating departure.
The song Lazarus, accompanied by a New York musical of the same name, seems particuarly to the point.
"Look up here, man, I'm in danger
I've got nothing left to lose
I'm so high, it makes my brain whirl
Dropped my cell phone down below
Ain't that just like me?

…

This way or no way
You know I'll be free
Just like that bluebird
Now, ain't that just like me?"
Other lyrics on the album have new significance today, like these from Dollar Days:
"If I'll never see the English evergreens I'm running to
It's nothing to meet, it's nothing to see
I'm trying to
I'm dying too"
Bowie made his ending an artistic moment and one that is not without hope – Lazarus rose again after all – but also, like all his best work, full of ambiguity.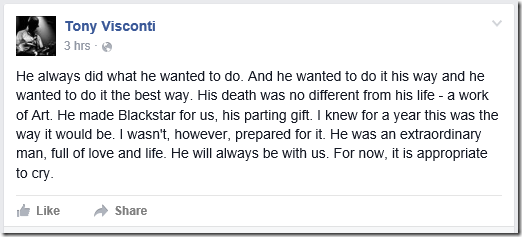 Thank you David Bowie.