The number of shelves dedicated to non-iPod music players in the average electronics retailer seems to shrink with each passing year, and as I write the top 10 bestselling MP3 players at Amazon.co.uk are all iPods, so it's good to note that Apple alternatives still exist. As it happens, I'd been using an iPod Nano for a few weeks when Sansa's latest Clip+ turned up for review; and it makes an interesting comparison.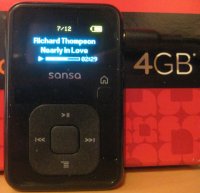 Feature-wise, the Sansa falls somewhere between a Nano and a Shuffle. There's no camera, games or accelerometer on a Sansa Clip, and at 4GB it has half the storage of the least capacious Nano (though see below); but unlike a Shuffle the Clip has a screen, an FM radio, and a voice recorder.
Sansa's device also has something all the iPods lack: a slot for a Micro SD or SDHC card, which means you can plug in extra capacity up to 16GB.  This port also supports a concept called slotRadio, where you purchase 1000 pre-selected songs on a card, but they are locked to that card. A slotRadio card costs $39.99 in the USA; as far as I can tell they are not available yet in the UK.
In use, the Sansa Clip+ offers none of the tactile pleasure of an iPod; but check out the price. This particular model is £34.99 at Amazon.co.uk; a new-generation Nano is over £100 and even a 4GB Shuffle is over £55.00.
The good news is that the Clip+ sounds very good. That's just as well, since I doubt many will care about slotRadio (especially in the UK). Expandable storage is a nice feature, though I'd more likely stick in 4GB and forget about it, rather than trying to manage a set of tiny SD cards.
Another strong feature of the Clip+ is that it plays FLAC and Ogg Vorbis as well as MP3, though I'd have liked to see MP4 in there too, for DRM-free purchases from iTunes. I also like being able to attach the Clip+ to a PC via USB and simply copy songs to it, rather than having to use Apple's bloated iTunes.
Still, I have to admit that the controls are rather fiddly and annoying; I kept clicking back when I needed to click the centre button and sometimes vice versa.
In the end, there are two reasons to get a Clip+. One is because you like having an Apple-free musical life. The other is because you value function over form. The Clip+ does a great job at a lower price than an iPod; but if you like the silky feel and stylish appearance of Apple's toys, this alternative is not going to win you over.