Never mind the books. Amazon's new Kindle reader is offering as an "experimental feature" a web browser based on WebKit – the same engine as Apple Safari and Google Chrome – that is free to use over 3G networks:
New WebKit-Based Browser
Kindle's new web browser is based on WebKit to provide a better web browsing experience. Now it's easier than ever to find the information you're looking for right from your Kindle. Experimental web browsing is free to use over 3G or Wi-Fi.
Amazon pays for the 3G coverage which is available globally. OK, it is monochrome, but since the Kindle also has a neat little keyboard is this now a great deal for blogging, checking Google maps, and so on?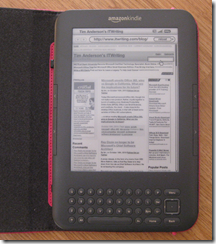 Maybe not. Here's what the terms and conditions say:
Use of Wireless Connectivity. Your Kindle uses wireless connectivity to allow you to shop for and download Digital Content from the Kindle Store. In general, we do not charge you for this use of wireless connectivity … You may use the wireless connectivity provided by us only in connection with the Service. You may not use the wireless connectivity for any other purpose.
If you are like me you may feel there is some inconsistency between these two statements. Enough to say that from my point of view free global web browsing would be a big incentive to purchase a Kindle; but I suspect that if this is real and turns out to be a popular feature consuming significant data traffic, Amazon will soon find a way to charge for it or turn it off.
It is also interesting to see a smidgen of convergence between the Kindle and more general-purpose slate devices. I am not sure if the Kindle strictly counts as a slate since it has a keyboard, but it certainly has the slate look and feel.