Google has launched a new social media service called Buzz (as if you did not know) and I'm on it – here's my profile.
You had better follow that link too; because whenever I visit the profile when signed into Google I see this not-too-subtle banner: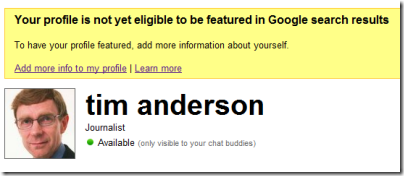 "Your profile is not yet eligible to be featured in Google search results". This statement with its bold yellow highlighting seems intended to make me anxious, though I'm not sure why I should care about this deliberate defect in Google's search algorithms. Having said which, it is not actually true, as a quick search verifies: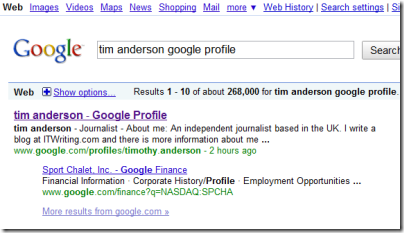 Still, let's presume that I believe it and want to fix it. I click the link to learn more. Does it tell me how to make my profile "eligible"? Not as such. Without making any promises, Google suggests that I should add more details,
For example, include details such as the name of your hometown, your job title, where you work or go to school.
It also wants a little link exchange:
Link to your profile on another website (for instance, your blog or online photo album)
and finally
Verify your name, and get a "Verified" badge on your profile.
I've been round the verify circus before; if you try to do it, you wander round the near-abandoned Knol for a while before discovering that it only works, some of the time, for USA residents.
Frankly, it all seems a bit desperate. My Google profile is just as I want it already, as it happens, though I could do without the big deceitful banner.
That said, this profile nonsense does nothing to allay my sense that Google has designs on me and wants more of my personal data and internet identity than I am inclined to give.
Buzz is a hard sell for me. I like Twitter, because it is single-purpose, works well – in conjunction with one of the many desktop add-ons such as Twhirl – and I never feel that it wants to take over my life.
Still, I am buzzing now, especially since I've linked it to Twitter so all my tweets arrive there too. We'll see.