Two items I have reviewed recently over on the gadget blog have given me pause for thought concerning Windows 8 compatibility. This is good in my experience when it comes to desktop applications, but sometimes that is not enough.
The first was Dragon NaturallySpeaking 12, Nuance's excellent voice recognition system. It works fine on Windows 8, on the desktop that is. Dragon works by intercepting voice input across the whole of Windows. When it runs, it puts a bar across the top of your desktop and a sidebar with helpful tips and shortcuts.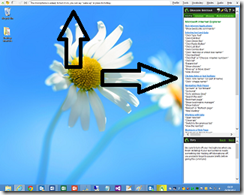 Dragon appears not to work at all in the Windows 8 "Modern UI". Whatever hooks it has in place to accept input and control mouse and keyboard do not apply outside the desktop environment.
Microsoft says Windows 8 is great for accessibility and ran a sessions at last year's BUILD conference on developing accessible apps. Here is one on assistive technologies for Windows 8. However on my quick look I did not see much on speech input. Assuming though that Microsoft has worked out a way of making this happen in the Modern UI, it is obvious that Nuance will have some work to do adapting Dragon. Neither the bar across the top, nor the sidebar will work in the "immersive" Modern UI which is mostly full-screen apps.
The second product was a Kingston secure USB Flash Drive. This thing works by means of a utility that you have to run, which lets you enter a password to unlock the encrypted drive. The utility is a desktop app, so will not work as-is on Windows RT (ARM) devices, on which you cannot install desktop applications. Kingston could create a Modern UI app, but I am not sure how easy it would be to have an app that unlocked an encrypted drive to make it available across the whole of Windows. Let's assume though that Microsoft has made provision for this scenario in Windows 8. Kingston still has work to do adapting its firmware.
Just to be clear, both these items work perfectly in the Windows 8 desktop environment on Intel.
I have asked Nuance and Kingston for comment.