Qualcomm was first to announce a quad-core mobile chipset here at Mobile World Congress in Barcelona – the Snapdragon APQ8064 – but NVidia says it will be first to market, with its quad-core successor to Tegra 2, code-named Kal-El. NVidia expects a Kal-El Android tablet to ship in August 2011, with smartphones to follow in the autumn. Qualcomm on the other hand says that samples of the APQ8064 are anticipated to be available in early 2012, implying that products will come later next year.
Kal-El is the successor to Tegra 2, and said to be 5 times faster. It also includes a 12-core GPU and supports HD video up to 12560×1600 – amazing for a low-power mobile chipset.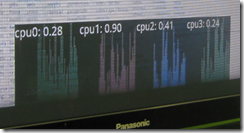 A prototype is running on NVidia's stand here and while my snap does not show the quality, you will have to take my word that the graphics looked excellent.